Message from the Chair
Dear NEMLA members,
It has been a pleasure working as your Vice Chair and Chair of NEMLA and working with the board for the past 6 years. I am proud of everything this organization has accomplished during this time and what it continues to accomplish. Some of our achievements include the smooth transition to our WordPress website and the excellent documentation of our meetings through our newsletter, website, video recording, and photos. There is also a growing commitment to preserving our past through our archives and through our NEMLA oral history project. I would note that we are still missing quite a few previous presentations, although our website currently includes many past presentations. If you are willing to add your presentation, please email your powerpoint or notes to Sarah Hunter and she will post them.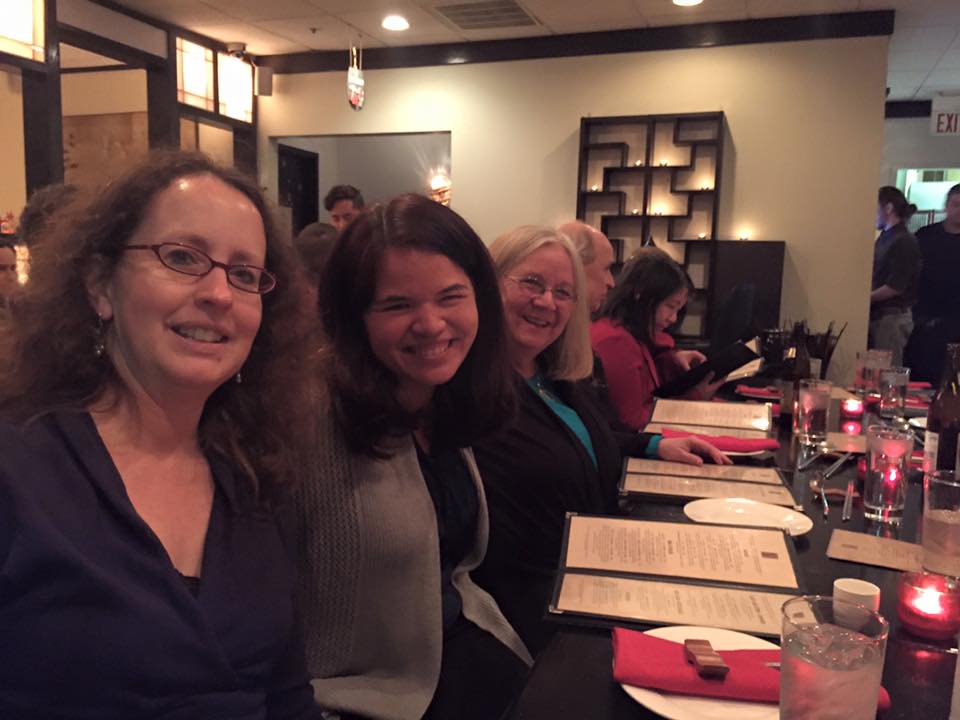 It was nice seeing so many of you at this past MLA conference in Cincinnati and later at the NEMLA Korean dinner at the Sung Korean Bistro. Over 24 of you attended and I have never heard so many compliments on a good restaurant choice! You can see additional photos of our delicious dinner on the NEMLA Facebook page.
This year the weather seems to need some meds to get rid of the mood swings! I'm sure all are looking forward to Spring and then to Summer. I hope to see many of you at our upcoming Spring meeting at Harvard. Thank you to our Vice Chair, Laura Stokes and the Program Committee (Anne Adams, Ilana Revkin,  and Jared Rex), together with our Harvard host Kerry Masteller for their hard  work arranging this meeting,  Thanks also to Sharon Saunders for putting the registration site up on Eventbrite. To see more details about this meeting please read: Spring Meeting at Harvard 2016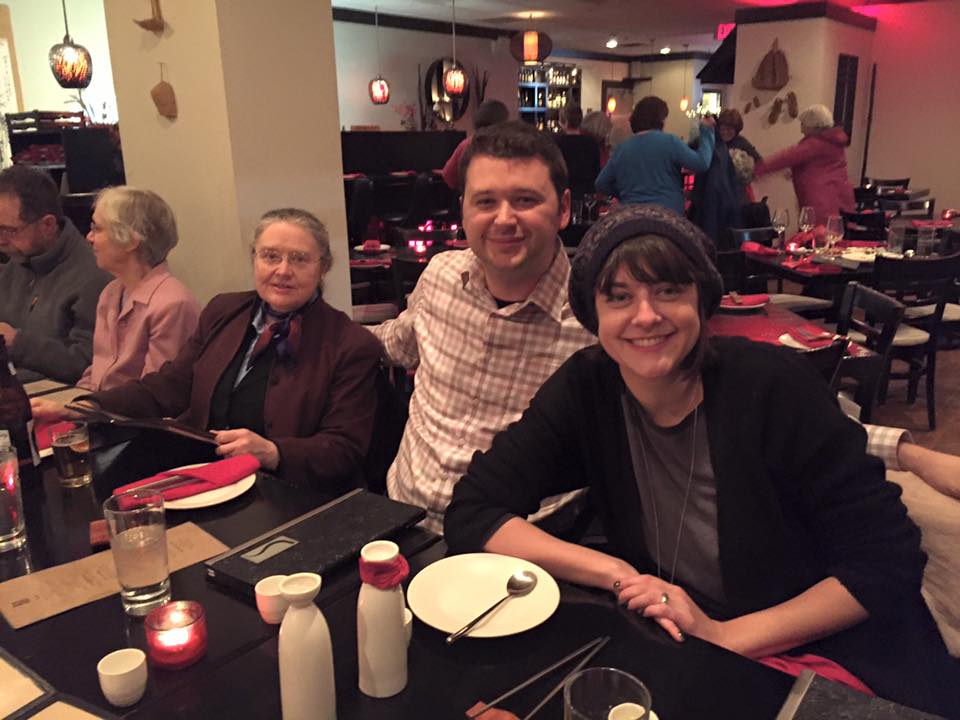 Before I end this letter, I want to remind you all to please take the time to vote for our new Vice-Chair / Chair-Elect and Member-at-Large. A big thank-you to Kerry Masteller (Past Chair) and to the Nominating Committee for recruiting our candidates, and to the members who have decided to run. Short bios of the candidates are included in this issue of the newsletter; look for a ballot in your email soon. If your membership has lapsed, remember to renew it in order to vote.
I'm looking forward to seeing many of you at our Spring Chapter meeting in June at Harvard.
Respectfully submitted,
Zoë Rath, NEMLA Chair
Reference Librarian
Stan Getz Library
Berklee College of Music
Spring 2016 Election Ballot
At 9 a.m. on Tuesday, April 26th, 2016, members in good standing will receive an email message inviting them to participate in the election of two new members to the NEMLA board. Our thanks go to all of the candidates standing for election, and to the Nominating Committee for their work assembling the election slate.
Candidate for Vice-Chair/Chair-Elect:
Jared Rex
Jared Rex has been the Music Librarian at College of the Holy Cross since August 2015. He hosted NEMLA's Fall 2015 conference and currently serves on NEMLA's Program Committee. Prior to his time at Holy Cross, Jared held various positions including Acting Librarian at the Nashville Symphony, Head Librarian of the American Academy of Conducting at Aspen, Library Fellow at New World Symphony, and Personal Librarian to conductor Michael Tilson Thomas. He has also worked in the music libraries at the Buffalo Philharmonic Orchestra, University at Buffalo, and the Boston Conservatory. Jared attended Manhattan School of Music Pre-College and the Boston Conservatory, where he received a B.M. in Piano Performance. He also holds a M.L.S. and M.A. in Music Theory from University at Buffalo.
Candidates for Member-at-Large:
Liz Berndt-Morris
Liz Berndt-Morris has been the music curator at the Boston Public Library since January 2015.  Her position includes predominantly providing reference and developing and maintaining the music collection of the BPL. She was previously employed at Central Michigan University, where she was a music librarian for almost six years.  During that time she participated in reference, collection development, original cataloging, and teaching in both one-time class sessions and a 100-level course, "Introduction to Research and Libraries," each semester. She also earned tenure and had an approved sabbatical before moving to Boston. During her time in the Midwest, she was active in the Midwest Chapter of MLA by chairing the Public Services Committee.
Andrea Cawelti
Andrea Cawelti is the Ward Music Cataloger at Houghton Library, Harvard University. A graduate of Oberlin (Greenwood Conservatory Prize) and The Juilliard School, she began her career as an operatic mezzo-soprano. The recipient of numerous prizes and awards, including winning the Met Competition, she has sung with the New York Philharmonic, the New York City Opera, and the Columbus Symphony, among others. Prior to Houghton, she worked at the Loeb Music Library at Harvard University, the Chicago Symphony Archives, and the New York Public Library Music Division. She completed her MSLIS at Drexel University in 2010.
Jonathan Manton
Jonathan Manton is Music Librarian for Access Services at the Gilmore Music Library at Yale University. His role oversees all aspects of access to Music Library collections, both physical and digital. Notable areas of concentration include circulation and course reserves, and all things digital, including digital projects and audio and video streaming access for media.
Before joining Yale in February 2016, Jonathan was Sound Archives Librarian at Stanford University's Archive of Recorded Sound. There he principally worked on creating access to an archive of nearly half a million sound recordings through arrangement and description, outreach and public services, and digital project work. While at Stanford, Jonathan notably created digital access to numerous collections from the archive's holdings for the first time.
Previous to his position at Stanford, Jonathan was based in Boston, MA from 2010-2012. During this time he served remotely as Technical Support Officer for the Britten Thematic Catalogue Project, a forthcoming online resource in development at the Britten-Pears Foundation in the United Kingdom that, once complete, will detail all of Benjamin Britten's works online, both published and unpublished. He was also a member of NEMLA during this time. He served as Secretary/Treasurer in 2012 and was on the Technical Services Committee from 2011-2012.
Jonathan received his MSc in Information and Library Management from the School of Computing, Engineering, and Information Sciences at the University of Northumbria, UK and MMus in Electroacoustic Music and Sonic Arts from the University of East Anglia, UK. He has published articles in both Brio (International Association of Music Libraries, UK) and Notes (Music Library Association, USA) respectively.
Spring 2016 Meeting Registration

Registration is now open for the Spring 2016 NEMLA meeting!
The spring meeting will take place on June 3, 2016 at the Lamont Library at Harvard University, followed by a short musical program and a reception at Harvard's Loeb Music Library.  We have an exciting program to offer: various special collections, the history of the Urtext, ethnomusicological adventures in Tunisia, and the E. M. Skinner organ project.  Our day will end with an opportunity to hear the vocal stylings of our very own Maria Jane Loizou!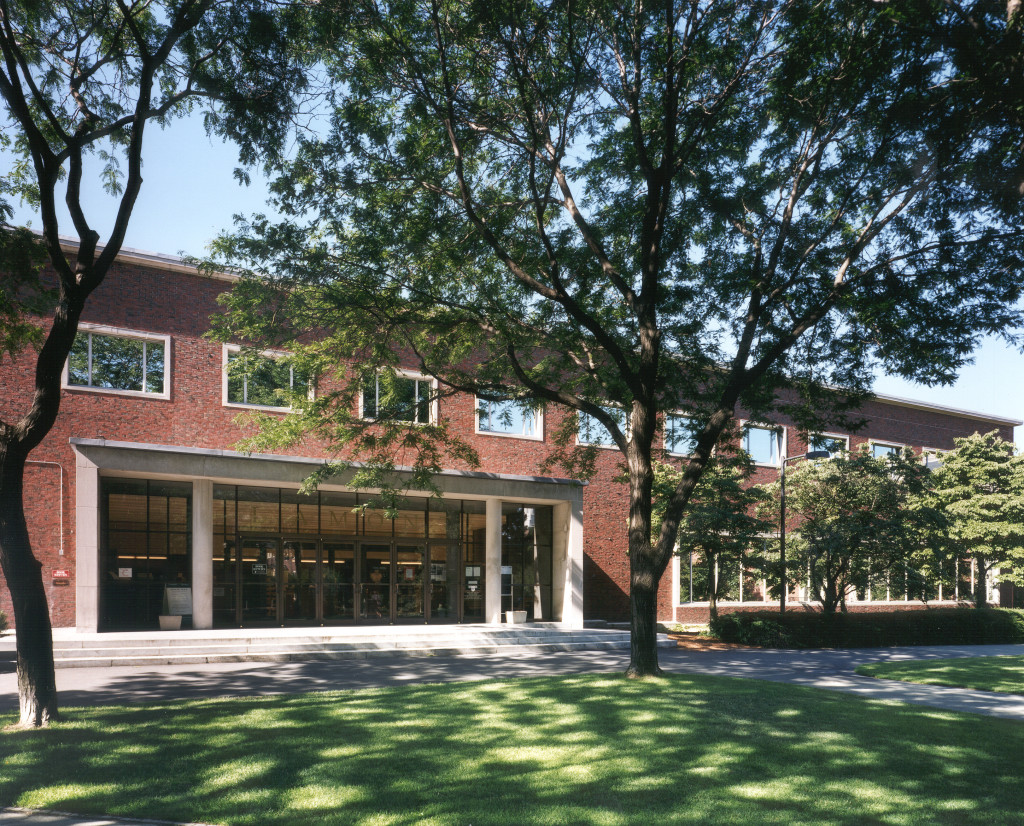 We are still working on the exact timing of the program schedule (watch for updates!) but we will gather for coffee and light breakfast items at 9 a.m. in Lamont, with the opening remarks scheduled for 9:45 a.m.
Early Bird registration will be $16 for regular members and $8 for student and retired members. Please register by May 27, 2016 to receive the Early Bird rate. Registrations from May 28 through June 3 (including walk-ins) will be $18 and $9, respectively.
No catered lunch this time, but the lunch break on the schedule will offer an opportunity to enjoy one of Harvard Square's many dining options.  Check out http://www.harvardsquare.com/restaurants if you would like some ideas.
Hotel
We have negotiated a conference rate of $199 per night (with tax, that's $228.28—it's Boston…) at the Holiday Inn Boston–Brookline at 1200 Beacon Street in Brookline.  If you are driving, you can also park there for $34/night.  Please make your reservation by June 2 to ensure this rate.
Reservation's #: 855-813-9839
Booking Code: MLA
Booking Link: New England Music Library Association
Transportation
Harvard's transportation directions can be found at this page: http://www.harvard.edu/on-campus/visit-harvard/directions  Regardless of your mode of transportation, we recommend the use of public transit into Harvard Square itself, since parking is extremely limited.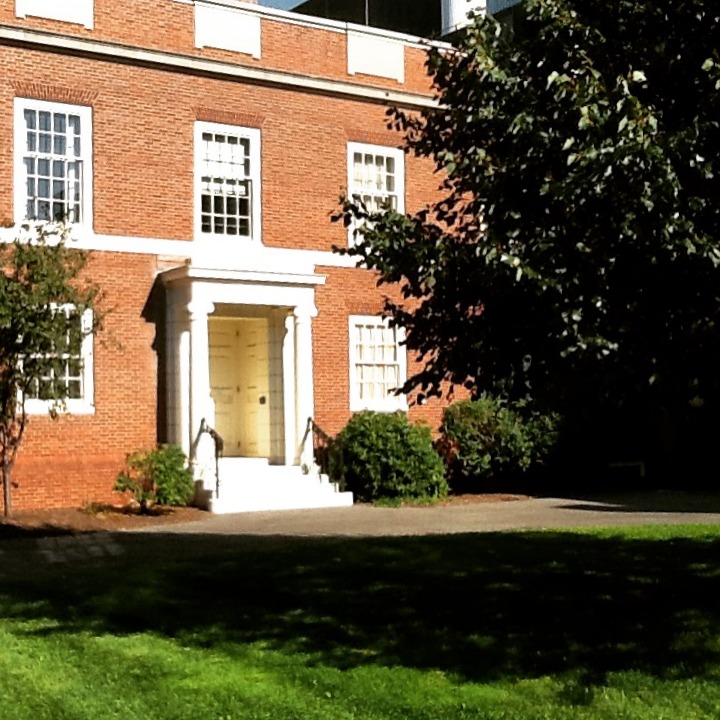 The Lamont Library website is found here: http://library.harvard.edu/lam, with a link to a map showing its location.  The Loeb Music Library website is here: http://library.harvard.edu/mus, with a map as well.  Please note that we will gather in Lamont in the morning.
First-Time Attendees
If this is your first NEMLA meeting, we welcome you to apply for our First-Time Attendees Program. This grant covers registration, lunch, and travel expenses; both current members and non-members are eligible, so long as they have not attended a meeting before. The deadline to apply for funding through this program is May 20, 2016.  Please apply here: http://tinyurl.com/c8mjvz9.  Please note that funding is regrettably not available for all first-time attendees, but we do strive to accommodate as many as we can on a first come, first served basis.
Thursday Evening Dinner
All attendees are warmly invited to a group dinner at 7 p.m. on Thursday, June 2, at Tanjore restaurant in Harvard Square.  If you are planning to come, please let Laura Stokes know by Tuesday, May 31 at the latest, so we can give the restaurant a headcount.
A huge, huge thank-you to Kerry Masteller, Sarah Adams, Marty Schreiner, Lynn Sayers, and the Harvard Library staff for hosting this meeting and contributing so much to the arrangements!
Noteworthy News
Holly Mockovak reports that Marci Cohen has joined Boston University as the Assistant Head of the Music Library, Mugar Memorial Library, replacing Sarah Hunter, who recently became BU's Electronic Inventory Manager for the Libraries. Marci brings her knowledge of popular music, the music industry, and music journalism to the role, complementing the backgrounds of their staff. Within MLA, she's currently the copyright web editor, a member of the Dena Epstein Award and Education Committees, and Coordinator of the Jazz and Popular Music Round Table. With co-author Grover Baker, her most recently published article is "Takin' Care of Business: Music Business Reference" in Music Reference Services Quarterly 18/3-4 (2015), 157-163.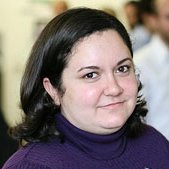 Sofía Becerra-Licha was accepted into the prestigious program: The Coalition to Advance Learning in Archives, Libraries and Museums. The Coalition began in 2013, and is supported by grants from the Institute of Museum and Library Services and the Bill & Melinda Gates Foundation, with administration provided by OCLC.
The goal of the group is to work in deliberate coordination across organizational boundaries to devise and strengthen sustainable Continuing Education and Professional Development programs that will transform the library, archives, and museum workforce in ways that lead to measurable impact on our nation's communities.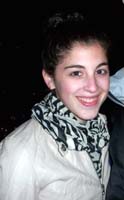 Amanda Axel joined Berklee College of Music as their Processing Archivist in April 2016. Prior to joining the Berklee staff, she served as Project Archivist for the Jonas Salk Papers at the University of California, San Diego, and Project Archivist at Northwestern University. A native of Illinois, Axel holds a Master's of Library and Information Science degree from the University of Illinois and a joint BA in History and History of Science, Medicine, and Technology from the University of Wisconsin-Madison.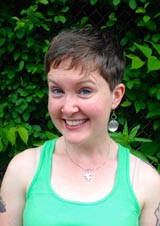 Erica Charis, Assistant Director, Assessment Programs & Planning Learning Resources at Berklee, was a member of an international committee that recently published its findings. The edX Library Working Group on Intellectual Property Materials in MOOCs talked with libraries across the country about current practices and thoughts on best practices regarding class materials for "massively open online courses" like those available on edX and Coursera. Erica was involved in those initial screenings and then was asked to remain on the project to pull together a final report of best practices for IP in MOOCs and recommendations  for further research, from a multi-media perspective.  If you are interested, you can read the report at https://lettheceleryrot.files.wordpress.com/2016/04/ipmaterials-final.pdf.
One final note – check out this interesting Yale News article about the Oral History of American Music archive.
NEMLA Officers
Chair:
Zoe Rath
Reference Librarian ILL Service
Stan Getz Library
Berklee College of Music
1140 Boylston Street
Boston, MA 02215
zrath at berklee dot edu
Phone: 617-747-8143
Vice-Chair/Chair-Elect:
Laura Stokes
Performing Arts Librarian
Orwig Music Library
Brown University
Providence, RI 02912
laura_stokes at brown.edu
Office: (401) 863-3999
Past Chair:
Kerry Carwile Masteller
Reference and Digital Program Librarian
Loeb Music Library
Music Building, North Yard
Harvard University
Cambridge, MA 02138
kmastell at fas.harvard.edu
Office: (617) 495-2794
Fax: (617) 496-4636
Secretary-Treasurer:
Sharon Saunders
Bates College Library
48 Campus Ave
Lewiston, ME 04240
ssaunder at bates.edu
207-786-8327
Member-At-Large:
Christopher Schiff
Ladd Library
Research Services
Bates College
2 Andrews Road
Lewiston, ME 04240
cschiff at bates.edu
Office: (207) 786-6274
Newsletter Editor:
Maryalice Perrin-Mohr
Archivist/Records Manager
New England Conservatory
Spaulding Library
290 Huntington Ave.
Boston, MA 02115
m.perrin-mohr at necmusic.edu
(617) 585-1252
NEMLA Archivist:
Sofia Becerra-Licha
Archivist
Stan Getz Library
Berklee College of Music
1140 Boylston Street
Boston, MA 02215
sbecerralicha at berklee.edu
Office: (617)747-8001
Web Page Editor:
Sarah Hunter
Electronic Inventory Manager
Mugar Memorial Library
771 Commonwealth Ave.
Boston, MA 02215
shunter at bu.edu
Office: (617)353-5810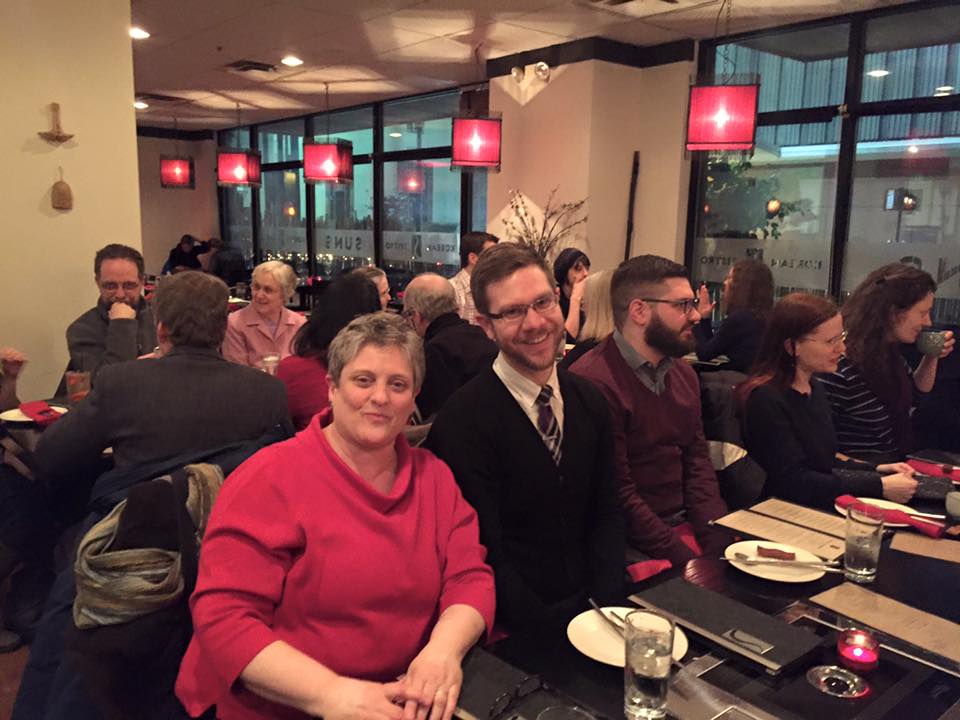 Publication Information
New England Quarter Notes is published quarterly in September, December, March/April and June/July.
Back issues may be accessed from:
http://nemla.musiclibraryassoc.org/resources/newsletters/
Address all correspondence concerning editorial matters to:
Maryalice Perrin-Mohr
m.perrin-mohr at necmusic.edu
Inquiries concerning subscription, membership and change of address should be directed to:
Sharon Saunders
ssaunder at bates.edu
Membership year runs September to August.
Regular Personal Membership:$12.00
Student and Retired Membership:$6.00
Institutional Membership:$16.00
Return to the New England Music Library Association home page.