Message from the Chair
Dear NEMLA members,
Looking out the window at the blowing wind and huge piles of crunchy leaves, it seems that fall is drawing to an end and soon, too, the fall semester will come to a close.  Although I'm looking forward to cozy holidays inside, I'm glad to do so with fond memories of the NEMLA activities of recent months.
It was wonderful to see so many of you at the fall meeting, which took place on a breathtakingly beautiful day (October 14, 2016) at Bennington College in Bennington, Vermont.  I'd like to express a great deal of appreciation to all the people who worked on this meeting, especially Vice-Chair Jared Rex, Marci Cohen of the Program Committee, and our host, Joe Tucker. They put together a wonderful day, which included a moving performance by an ad-hoc vocal ensemble at the end.  Jonathan Manton's report on the meeting will fill you in (or jog your memory) about the specifics of the program, but I also want to thank everyone who presented or who participated in the committee work there.
If you're still thinking about getting involved, it's not too late: several committees are still looking for new members (especially Publications and Program), and we are still accepting nominations for the next election in the spring, when we'll vote on Vice-Chair, Secretary-Treasurer, and Newsletter Editor.  Please see Past-Chair Zoë Rath's call for nominations in this newsletter for more details, and get in touch with me or the committee chairs if you are interested in joining a committee.
A lingering matter from NEMLA's summer board meeting is the question of whether NEMLA will, like other regional chapters, switch to using MLA's centralized system for membership renewals.  I will be asking for feedback on this matter from the membership as a whole, so please watch your email. We will also be seeking information from chapters that have chosen to make the switch; over half of the other chapters are now using MLA's renewal system. This system does allow for members to select chapter membership only if they do not wish also to join the national organization.
For those of you who are planning to come to the MLA national meeting in Orlando: in lieu of a chapter meeting there, we will gather for a group dinner.  The chapter meetings are typically scheduled for late on Thursday (although that is still TBD on the meeting schedule as of this writing!), so let's preliminarily plan on Thursday evening.  I will be looking for a restaurant that can accommodate a potentially large group with a diverse array of dietary needs—so if you're planning on joining us, please send me a message so I can start to estimate the headcount.
All best wishes, and see you in 2017!
Respectfully submitted,
Laura Stokes, Chair, New England Music Library Association Performing Arts Librarian
Virginia Baldwin Orwig Music Library, Brown University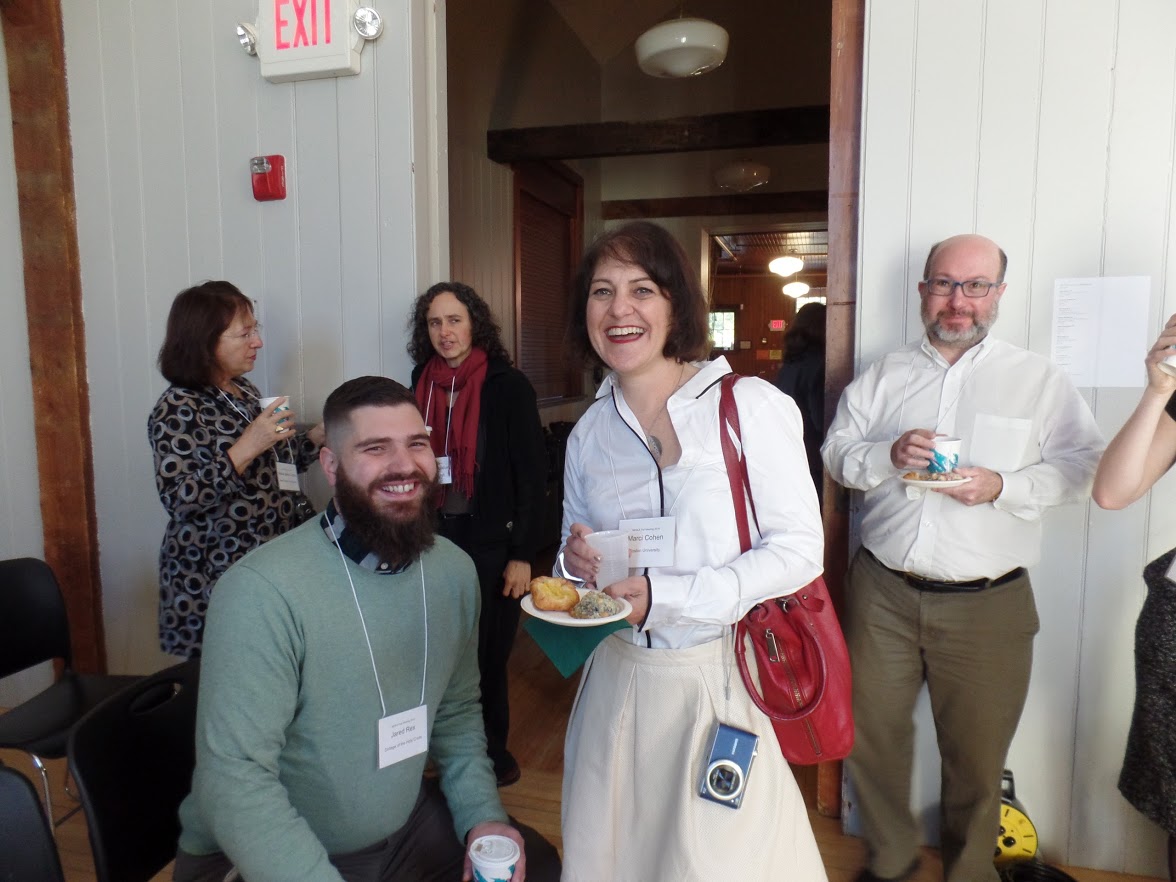 Secretary-Treasurer's Report
Membership
Thanks to all who have renewed their memberships or have recently joined NEMLA.  We currently have 50 active members!  If the 21 people whose membership was last paid through Aug. 31, 2016 renewed their memberships, we would have 71 active members!  If you have any questions about the status of your membership, please e-mail me at nemlaboard@gmail.com
Meeting attendance
Bennington College was a spectacular place to meet in the Fall.  We had 30 people attend the meeting, one of whom was supported by our first-time attendee program.
Finances
Fall meeting income: $ 520.23
Fall meeting expenses: $ 565.96
First-time attendee expenses: $ 196.57
Checking account: $ 2508.77
Savings account: $ 4,005.09
Grant funds (Oral history): $ 480.50
Submitted by
Sharon Saunders
NEMLA Secretary-Treasurer
Fall 2016 Meeting Minutes
The Fall Meeting of the New England Chapter of the Music Library Association was held on the beautiful campus of Bennington College, VT.  I personally don't remember a more picturesque setting for a chapter meeting than this, overlooking the Green Mountains on a spectacular Fall day.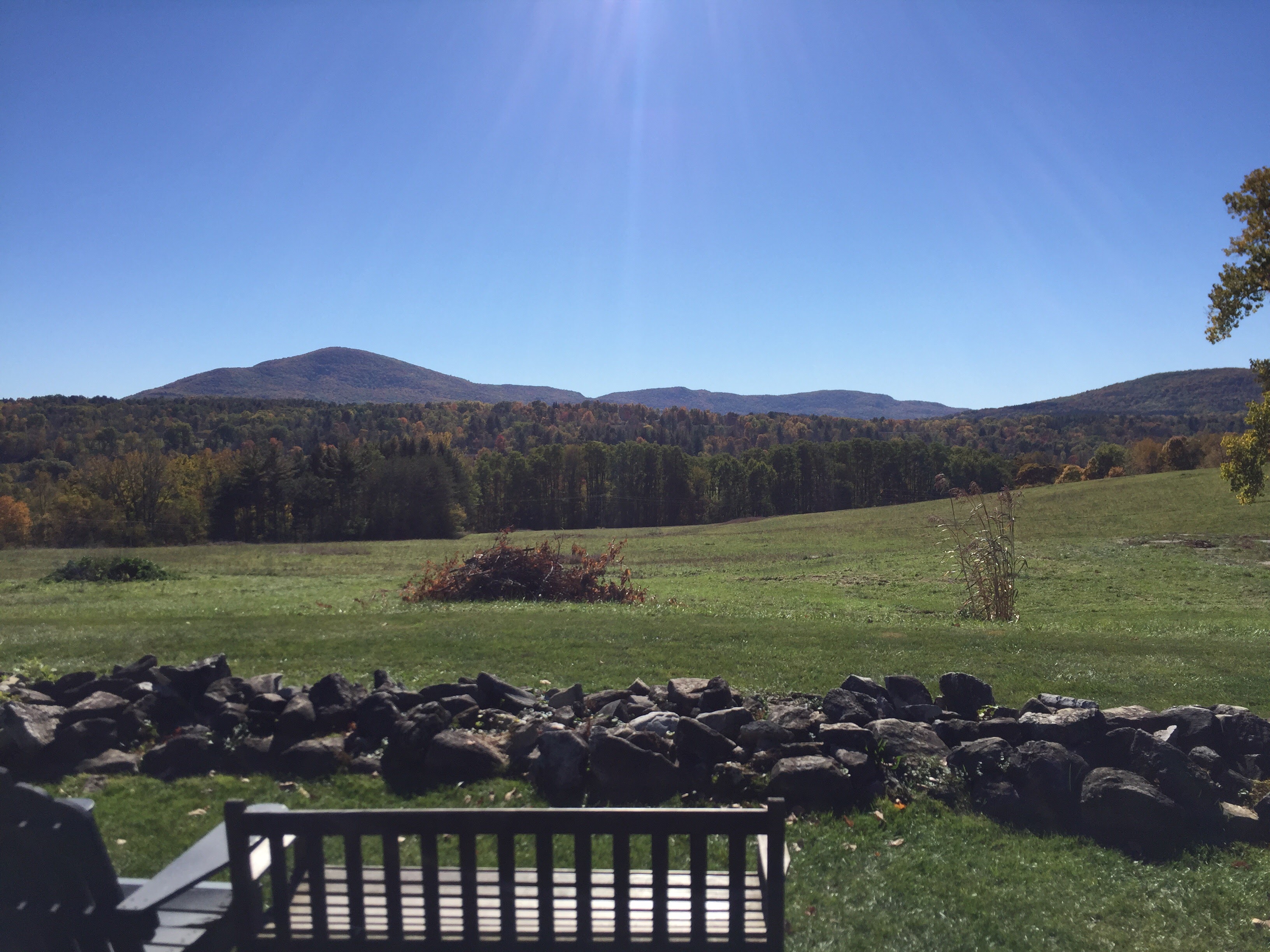 Following an introduction from NEMLA Chair Laura Stokes, welcoming thirty attendees who had made the trip to Bennington, Jared Rex, NEMLA Vice-Chair/Chair-Elect, introduced our wonderful sponsors for the day: Oceana Wilson, Dean of Crossett Library at Bennington, and Zeke Bernstein, Dean of Research, Planning, and Assessment. Oceana and Zeke spoke briefly about Bennington's history, research ethos and the library's critical role at Bennington. Dean Wilson highlighted a collaboration between the School of Music at Bennington and the library related to a collection of highly unusual custom built instruments created by long-time Bennington Professor, Gunnar Schonbeck, that are now held at Mass MOCA. The collection of instruments, which includes an eight-foot-tall banjo, were featured in frequent concerts during Schonbeck's time at Bennington. The School of Music and the Library are now working to digitize posters and recordings from these concerts.
Jared Rex then introduced the opening act of the excellent program he and the Program Committee put together. Memory Apata, Pat Fisken, and Adam Nemeroff from Dartmouth College, introduced a recently released Massive Open Online Course (MOOC) on the Dartmouth's edX instance, DartmouthX, entitled Introduction to Italian Opera. The course, which is currently in session at the time of writing, was the result of a large scale collaboration including librarians from the Paddock Music Library, instructional designers, IT, and Steve Swayne (Jacob H. Strauss 1922 Professor of Music at Dartmouth, who was the instructor for the course). Pat Fisken, Head of Paddock Music Library, spoke about the success of the course being a product of the effective team that was put together for the project. Pat noted that her principal role in the project had been to source the content to support the course and negotiate rights as needed. Adam Nemeroff, an Instructional Designer at Dartmouth, then outlined his role in the project. He noted that Instructional Designers are professional educators who collaborate with faculty and students to design and implement virtual learning platforms. Adam highlighted the design process for the MOOC, working backwards from goals and objectives, finally selecting content. He also highlighted a number of tools and methodologies he used in his role as Project Manager for the MOOC. Finally, Memory Apata, Music Library Supervisor at the Paddock Music Library, and recipient of a NEMLA First-Time Attendee award for the meeting, discussed her Teaching Assistant type role for the MOOC project. Her role included building resource lists for the course, which for the most part included high quality yet free resources given that many course participants would not have access to the paid databases and other tools to which many university libraries subscribe.  Memory was also responsible for promotion of the course, primarily via social media and mailing lists. Dartmouth is now working on another MOOC on German Opera, which is due to be launched in Spring 2017.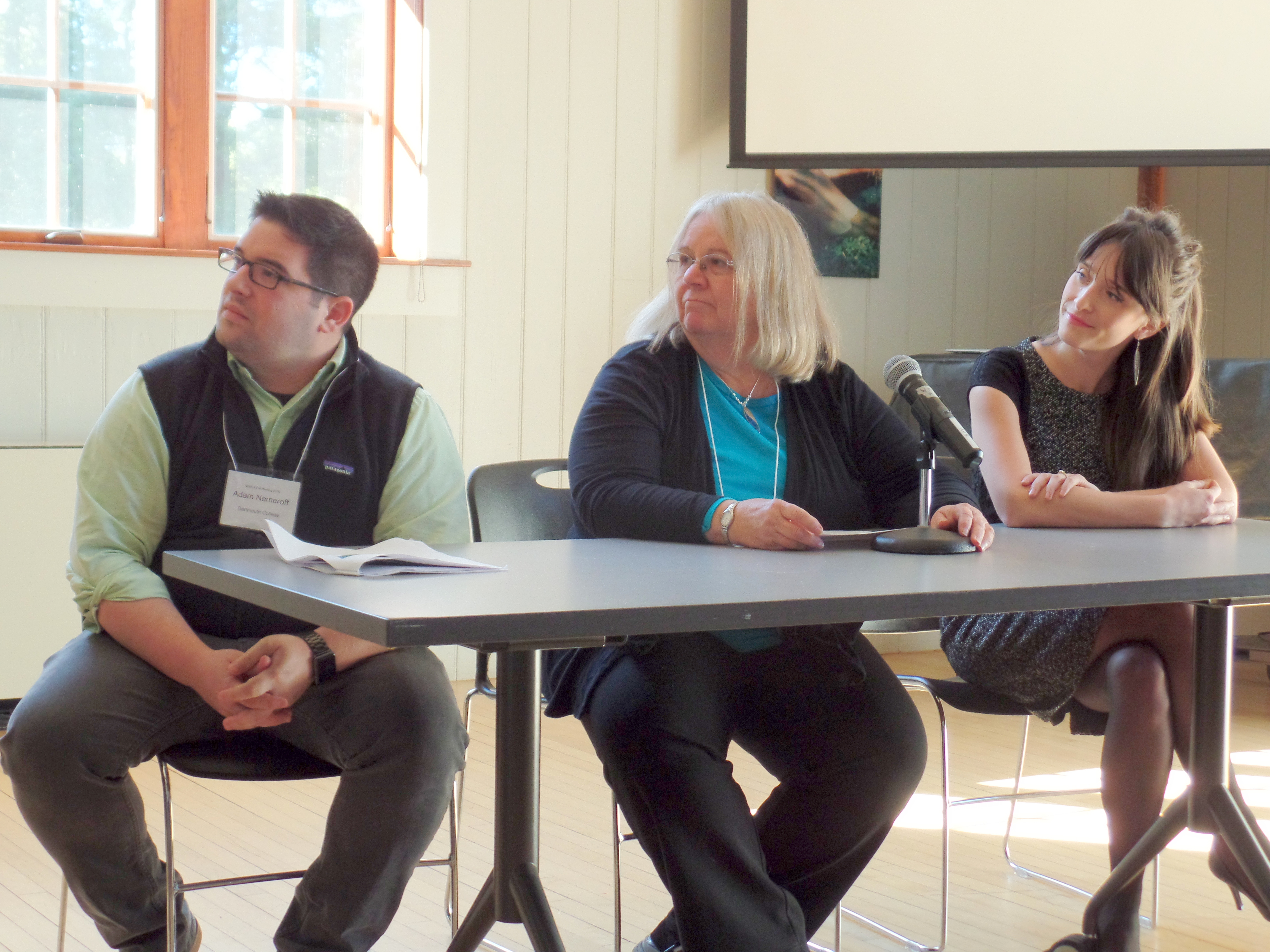 The second presentation of the day featured an update on the rapidly changing world of music vocabularies. Anne Adams, Music Cataloger at Harvard University, provided us with an overview of two recent vocabularies that are now being used by Music Catalogers, the Library of Congress Medium of Performance Thesaurus (LCMPT) and Library of Congress Demographic Group Terms (LCDGT). Anne noted that both of these vocabularies have been designed with a view toward Linked Data. Anne highlighted that many libraries are still using Library of Congress Subject Headings (LCSH) for terms that are now in LCMPT but that in time, LSCH will be used solely to describe the "aboutness" of an item. LCDGT is still not being used by many music catalogers, but will be something to keep an eye on for the future. For further news and updates related to these vocabularies and other topics related to music cataloging and metadata, follow the MLA Cataloging and Metadata Committee's blog 
Following committee meetings and lunch, Zoe Rath, Manager of Collection Development at Berklee College of Music, outlined work she had recently undertaken as an embedded librarian for a Music Therapy class at Berklee. Zoe mentioned that this was just one example of how she is trying to move beyond the reference desk more, to meet patrons outside of the library and to better connect with them. Zoe mentioned that her work as an embedded librarian involving meeting with the faculty for the class, attending classes for the program, creating Libguides specifically for the class, and holding drop-in hours for students to stop by for research assistance. Zoe hopes to build upon the success of this initiative, to have more of presence in Berklee's recently launched online graduate degree course in Music Therapy, and to also create a collection of circulating instruments for music therapy students and faculty.
The final presentation of the day was by NEMLA's chair, Laura Stokes. Laura spoke to us about her ongoing detective work into the publishing history of Musica Sacra, a 19th-century compendium of organ and vocal music, published (mostly) by Berlin: Ed. Bote & G. Bock. Laura outlined that the facts of publication for the various volumes differs wildly across myriad records in Worldcat and other bibliographic sources. She has been working to ascertain more accurate publication information for each volume, since the facts of publication have implications for Musica Sacra's relationship to contemporary church politics. She is also interested in why there was a change of editor after volume four of the series, a change that may have also been politically motivated. All of this work is part of Laura's doctoral dissertation, which she is due to defend in December.
With the meeting's presentations complete, we were then treated to a vocal concert by Thomas Bogdan (Voice Faculty, Bennington College), Kerry Ryer-Parke (Voice Faculty, Bennington College), Dane Whitman (Kilpatrick Fellow, Bennington College) and Joe Tucker (Research Services Librarian, Bennington College). The quartet performed a highly diverse and imaginative program, from Monteverdi to Lennon and McCartney.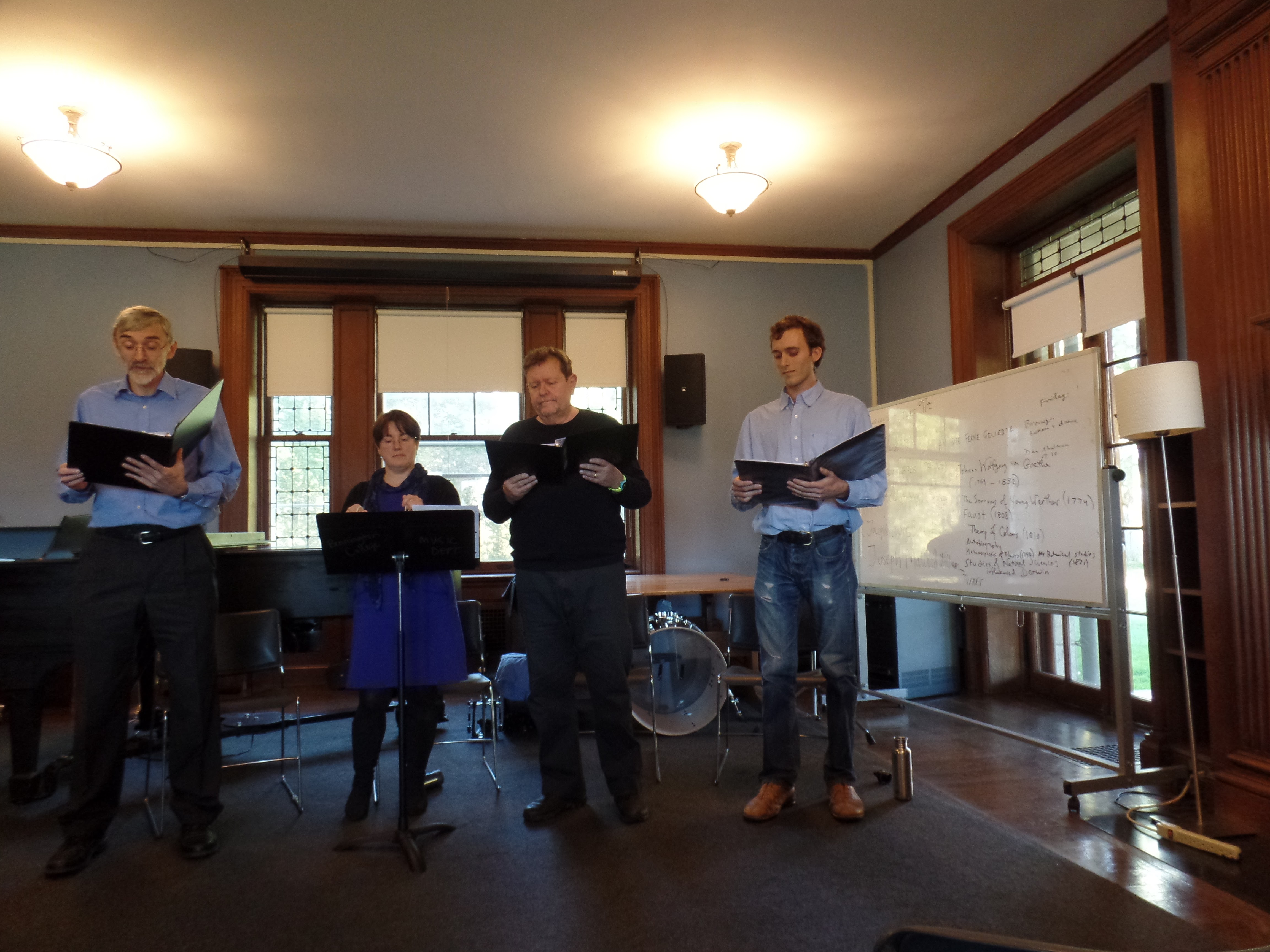 A huge debt of gratitude goes to Bennington College for hosting us, especially Joe Tucker from Bennington who, along with Jared Rex and Marci Cohen, took care of all of the arrangements for the meeting, including organizing the weather, which was amazing!
Submitted by
Jonathan Manton, NEMLA Member-at-Large.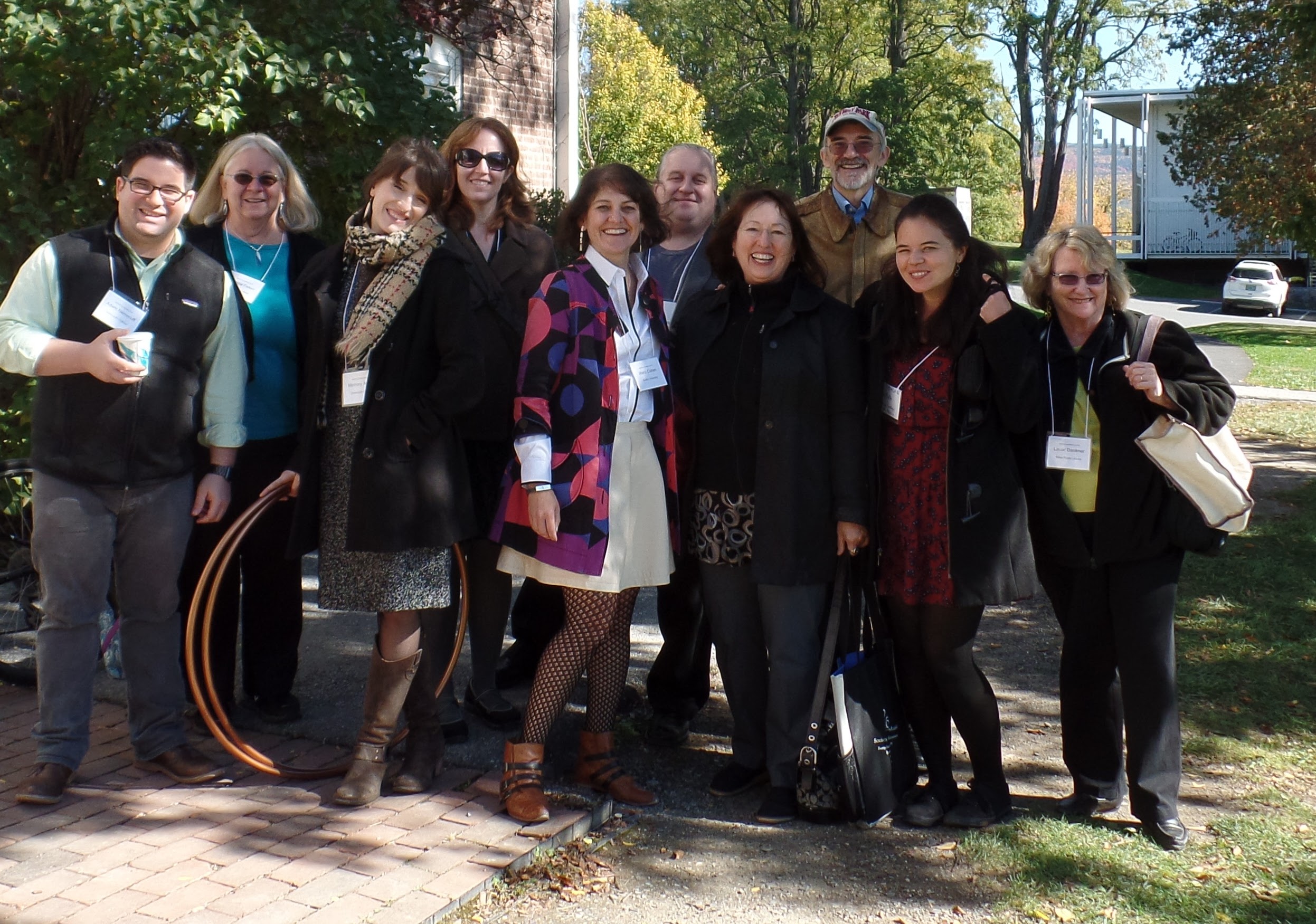 Spring 2017 Meeting Preview
NEMLA's spring meeting will be held on Friday, June 2, 2017 at the Massachusetts Institute of Technology (MIT) in Cambridge, MA! While it has been a number of years since NEMLA met at MIT–the last time was May 2001–we look forward to being back in Cambridge to experience a diverse day of programming in the midst of MIT's extensive campus (and to sneak a visit to MIT's Lewis Music Library).
Considered among the world's best universities, the Massachusetts Institute of Technology was founded in 1861. It supports a mission of advancing knowledge and educating students at the highest level. The Lewis Music Library contains a diverse assortment of musical materials supporting the school's curriculum including approximately 18,000 books, 40,000 music scores, 26,000 recordings, and 100 journal subscriptions.
Please watch the NEMLA listserv for additional details in the upcoming months (including registration information, accommodations, call for proposals, etc.). Please e-mail Jared Rex (jrex@holycross.edu) if you have questions.
The program committee also encourages all NEMLA members to consider submitting proposals to present at the spring meeting. We want to hear about new initiatives and projects at your home institutions!
Special thanks to the program committee and Peter Munstedt for hosting us.
Jared Rex, Vice-Chair/Chair Elect
Music Librarian
Fenwick Music Library
College of the Holy Cross
1 College Street
Worcester, MA 01610
(508) 793-2295
jrex@holycross.edu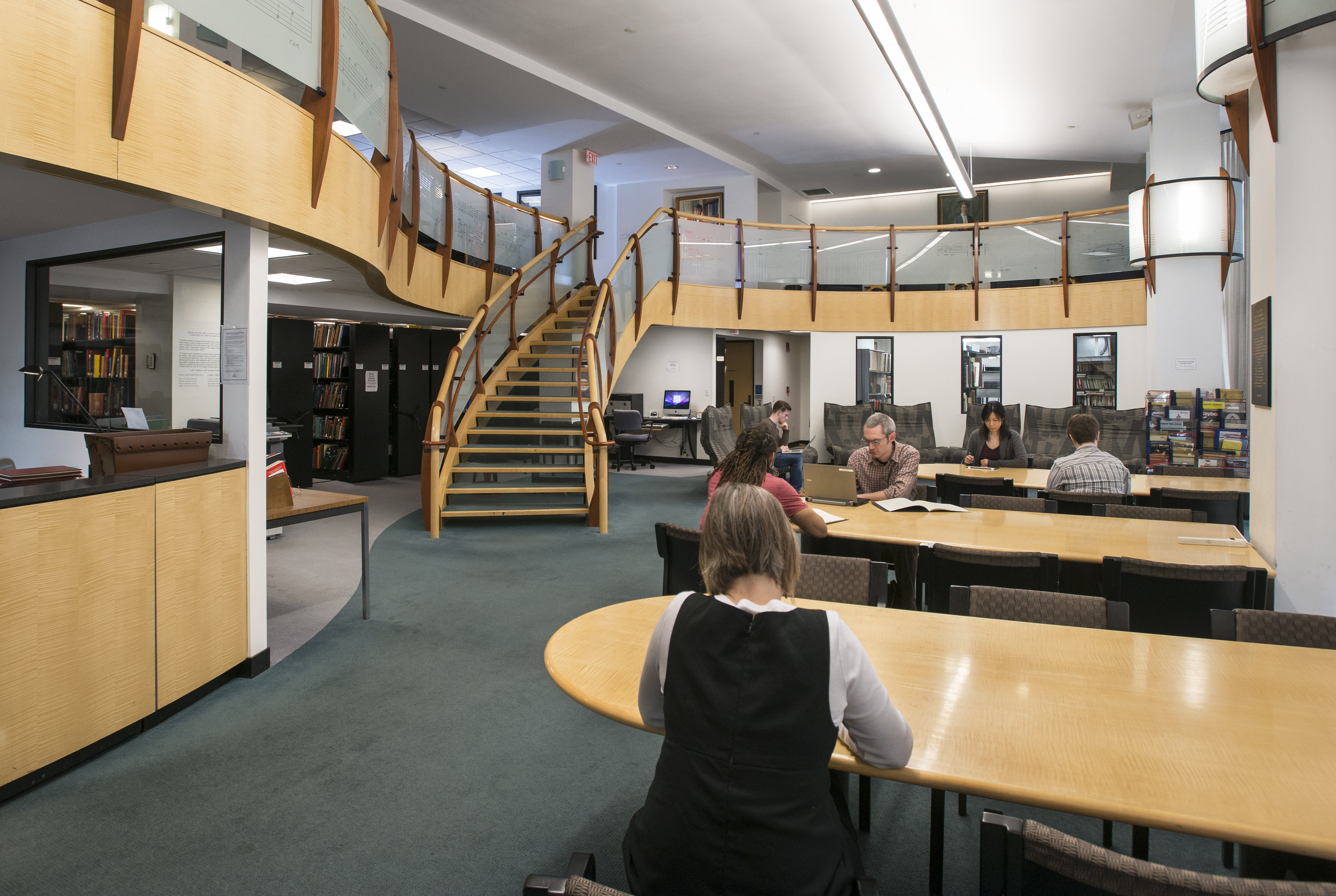 Seeking Nominations/Committee Members
As of December 2016, the NEMLA board seeks new members for the following committees:
By Spring 2017 the board seeks new candidates to run for the NEMLA board to appear on the May 2017 ballot:
Secretary-Treasurer (2 year term)
Record the minutes of all meetings and preserve all official records and reports of the Chapter;
Keep an up-to-date membership list and notify the members of all meetings;
Conduct correspondence of the Chapter as may be required;
Prepare an annual budget, maintain Chapter accounts, and report on status of these accounts at each board meeting;
Represent the organization in all financial matters, including collecting dues, receiving payments, and making authorized expenditures

 Newsletter Editor (2 year term)
Publishes at least four newsletters each year.
Serves as an ex-officio member of the Publications Committee. Maintains and posts to social media sites, including NEMLA's Facebook and Twitter accounts.
Works with the Web Editor and other Board members to update NEMLA's website.
Vice-Chair/Chair-Elect (3 year term):
Performs the duties of the Chair in the latter's absence.
Serves as an ex-officio member of the Education & Outreach Committee.
The term of office shall be one year, after which the Vice-Chair shall succeed to the office of Chair and then Past-Chair, requiring a commitment of three years.
Thank you for your consideration, please email Zoe Rath, Chair of the Nominating committee at zrath at berklee.edu if you have any questions about these positions or would like to nominate yourself or someone else for one of these positions.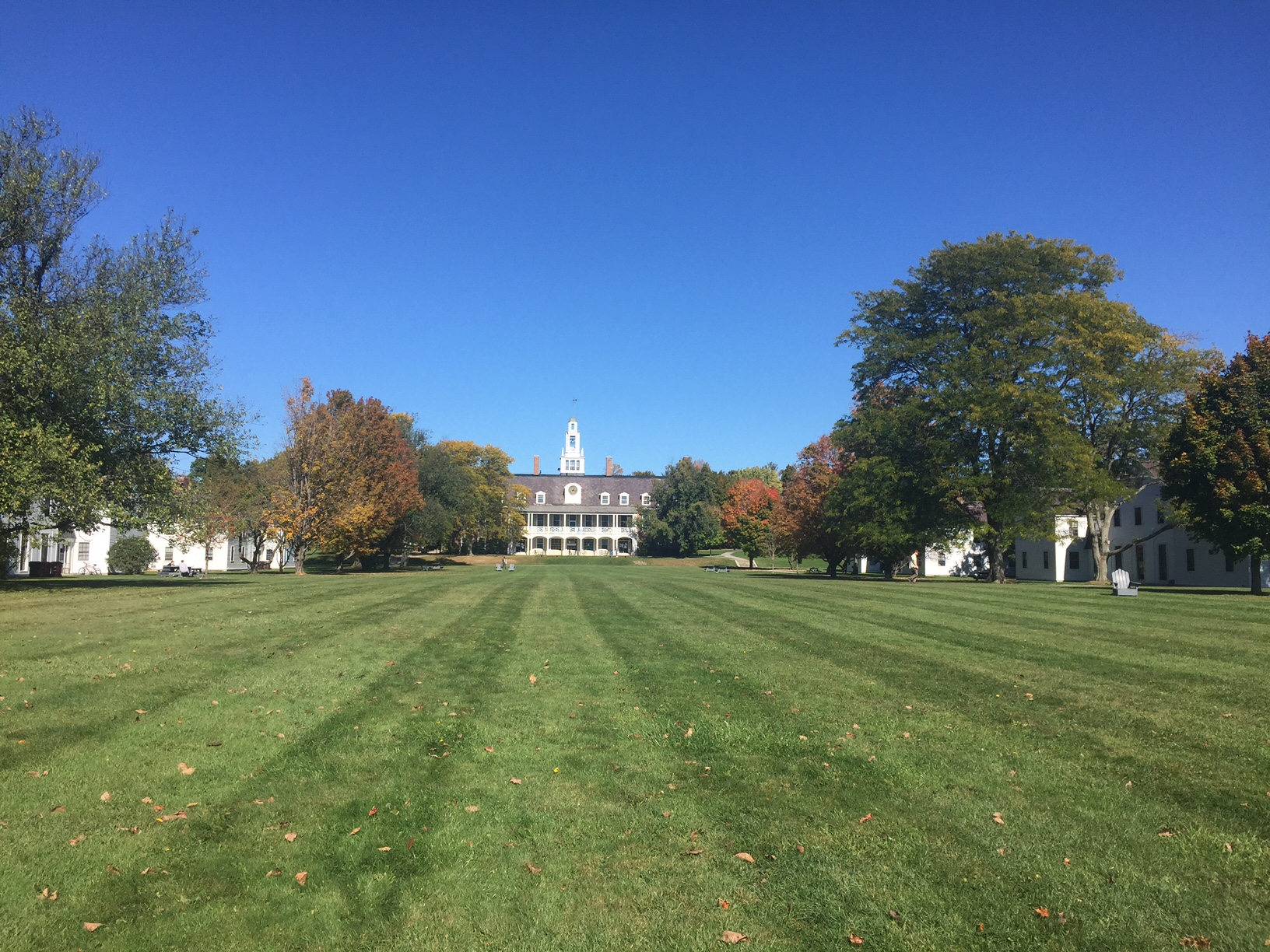 Noteworthy News
The Holiday Season is fast approaching and music will be ringing throughout the Town of Blue Hill. Come and join the Bagaduce Music Lending Library in our inaugural Open House for the Holidays.   It will be held in the Performance Hall, at 49 South Street on Tuesday December 13th between 2 and 4pm.
The Music Library is busier than ever with orders for Holiday concerts, with choral, orchestral and recital performances welcoming the season and ringing in the New Year. Our volunteers are kept busy every day entering new music donations and filing the old.
Come and see the progress at the site of the new Music Library! This is due to the many committed and dedicated donors to our mission of sharing music. Heartfelt thanks are hereby extended to all who have given of their time and talent at the Performance Hall, as well as the many generous donations to the Capital Campaign. The campaign has not reached capacity, but the completion is within reach. This community will thrive with your continued support and creative collaboration with BMLL. Call to confirm a workshop, lecture or musical presentation for the community to enjoy in 2017.
NEMLA Officers
Chair:
Laura Stokes
Performing Arts Librarian
Orwig Music Library
Brown University
Providence, RI 02912
laura_stokes at brown.edu
Office: (401) 863-3999
Vice-Chair/Chair-Elect:
Jared Rex
Music Librarian
Fenwick Music Library
College of the Holy Cross
1 College Street
Worcester, MA 01610
jrex@holycross.edu
(508) 793-2295
Past Chair:
Zoe Rath
Reference Librarian ILL Service
Stan Getz Library
Berklee College of Music
1140 Boylston Street
Boston, MA 02215
zrath at berklee dot edu
617-747-8143
Secretary-Treasurer:
Sharon Saunders
Bates College Library
48 Campus Ave
Lewiston, ME 04240
ssaunder at bates.edu
207-786-8327
Member-At-Large:
Jonathan Manton
Music Librarian for Access Services
Irving S. Gilmore Music Library
Yale University
120 High Street
PO Box 208240
New Haven, CT 06520
jonathan.manton at yale.edu
T: 203-432-
Newsletter Editor:
Maryalice Perrin-Mohr
Archivist/Records Manager
New England Conservatory
Spaulding Library
290 Huntington Ave.
Boston, MA 02115
m.perrin-mohr at necmusic.edu
(617) 585-1252
NEMLA Archivist:
Sofia Becerra-Licha
Archivist
Stan Getz Library
Berklee College of Music
1140 Boylston Street
Boston, MA 02215
sbecerralicha at berklee.edu
Office: (617)747-8001
Web Page Editor:
Sarah Hunter
Electronic Inventory Manager
Metadata Services Department
Boston University
771 Commonwealth Ave.
Boston, MA 02215
shunter at bu.edu
Office: (617)353-5810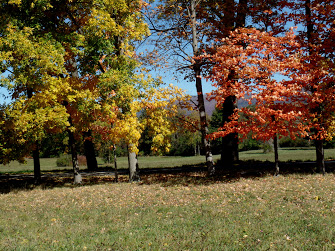 Publication Information:
New England Quarter Notes is published quarterly in September, December, March/April and June/July.
Back issues may be accessed from:
http://nemla.musiclibraryassoc.org/resources/newsletters/
Address all correspondence concerning editorial matters to:
Maryalice Perrin-Mohr
m.perrin-mohr at necmusic.edu
Inquiries concerning subscription, membership and change of address should be directed to:
Sharon Saunders
ssaunder at bates.edu
Membership year runs September to August.
Regular Personal Membership:$12.00
Student and Retired Membership:$6.00
Institutional Membership$16.00

Return to the New England Music Library Association home page.