Message from the Chair
Dear NEMLA members,
It's hard to believe that September has arrived once again! Whether you took a long vacation, short day-trips, or had a "staycation" at home, I hope you have enjoyed a relaxing and restful summer.
The NEMLA Board met for its annual meeting in early August. Many topics were discussed; however, one recurring theme we addressed was how to approach our outreach efforts to first-time attendees in new ways including, more specifically, how to retain and encourage new members to join and become active in our organization. Although numerous ideas are still being discussed, the board voted unanimously to offer free meeting registration to NEMLA members who bring a first-time attendee to a NEMLA meeting this year! I encourage everyone to reach out to paraprofessionals, library staff, or other individuals interested in our profession and bring them with you to our meetings. The board is enthusiastic to implement this outreach effort as early as our fall meeting, and we are excited about new possibilities for outreach in this area.
In case you missed the listserv announcement, NEMLA received a grant of $500 from the Music Library Association to help offset expenses associated with a library school student, recent graduate, or new professional attending the 2018 MLA national annual meeting in Portland, Oregon! Modeled from a similar grant offered by the Atlantic chapter last year, I am elated that NEMLA is able to provide this unique opportunity in New England. Interested applicants can apply here; applications are due September 30, 2017. I encourage everyone to share this information with interested parties who may not currently be NEMLA members, especially library school students and paraprofessionals who are interested or work in music librarianship. Special thanks to Laura Stokes, Jonathan Manton, and Sofia Becerra-Licha for drafting, editing, and submitting the grant application to MLA.
The arrival of September (and return of the fall semester) signals that arrangements for our fall meeting are underway. Marci Cohen and the Program Committee are tirelessly working on planning and arranging the logistics of the day. It will be held on Friday, October 20 at Yale University in New Haven, CT. The program looks spectacular and promises to be engaging with presentations on historical sound recordings, audio streaming rights, and digital archiving of legacy audio media. The music antiquarian in me is particularly excited to view treasures from Yale's Beinecke Library. Other events include a tour of Yale's Gilmore Music Library and a concert of songs from Yale's extensive libraries featuring Anne Rhodes and Kimmy Szeto. We will conclude with a reception at Mory's, a tavern near Yale, which was a favorite spot of composer Cole Porter among other prestigious Yale alumni! Additional details can be found in the fall meeting information section below. Lastly, consider attending the pre-conference dinner on Thursday night, October 19, by sending a RSVP to Marci Cohen if you will be arriving to New Haven early.
Looking ahead to our committee meetings held at our fall meeting, we have many open positions on almost every committee: the Program Committee, Instruction Committee, Technical Services Committee, and the Nominating Committee. Special thanks for Maria Jane Loizou for joining the Nominating Committee! If you have not recently served on a committee–or if you have served on one of our committees in the past–I encourage you to consider serving our organization on a new committee. Please contact one of our board members if you are interested. Another topic discussed at the board meeting was the possibility of establishing communities of interest to either supplement or replace our current committee structure. More information on these will be released and discussed over the upcoming year.
As mentioned above, if you are considering attending our fall meeting for the first time, please consider applying for our First-Time Attendees Program which provides funding for appropriate travel expenses.
With that, I hope your semester, if applicable, is off to a smooth start, and I look forward to seeing everyone in New Haven!
Respectfully submitted,
Jared Rex, Chair
New England Music Library Association
Secretary/Treasurer's Report
New Members and Membership Renewals
NEMLA Memberships are now up for renewal (our membership year begins September 1).
Everything you need to renew your membership (including a 3-year renewal option) is on our Membership page: http://nemla.musiclibraryassoc.org/get-involved/membership/
Use the online form (scroll down the membership page) to update your information and indicate your method of payment.  Use the PayPal button (scroll down the membership page) to pay by credit card or PayPal.  To pay by check, make check payable to NEMLA and mail to:
Alan Karass
New England Conservatory
290 Huntington Ave.
Boston, MA 02115
Fall 2017 Meeting Registration/Information
We are pleased to announce the registration information for our Fall 2017 meeting.  Register here!
Our fall meeting will take place on Friday, October 20 at Yale University in New Haven, CT.  All sessions will take place in the International Room in Sterling Memorial Library, 120 High St., unless otherwise noted. The day will feature sessions on Historical Sound Recordings as Musical Mentors, the Boston Symphony Orchestra Archives' work in dealing with rights for audio streaming and Designing and Equipping Workspaces for the Digital Archiving of Legacy Audio Media. In the afternoon, we will see music collection gems at Beinecke Rare Book & Manuscript Library, get a tour of the recently renovated Irving S. Gilmore Music Library, hear a concert of songs from Yale's special collections and conclude with a reception at at Mory's, the famous Yale Tavern.
We are happy to introduce a new initiative to encourage new attendees. If you bring a first-time attendee to the meeting, your registration will be free. See First-Time Attendees below for more details.
Meeting Program
9:00 a.m. – 9:45 a.m.: Registration; coffee and pastries (underwriting by Arkivmusic) [Hallway leading to International Room]
9:45 a.m. – 10:00 a.m.: Opening Remarks – Jared Rex, NEMLA Chair; Ruthann McTyre, Director of Gilmore Music Library, Yale University Library; Susan Gibbons, University Librarian, Yale University Library.
10:00 – 10:40 "Historical Sound Recordings as Musical Mentors" (Mark Bailey, Yale University)
10:40 – 11:20 a.m. "Navigating the Rapids of Streaming Audio: Rights and Permissions for Presenting Audio Materials Online" (Bridget Carr and Sarah Funke Donovan, Boston Symphony Orchestra)
11:20 a.m.-12:00 p.m. "Designing and Equipping Workspaces for the Digital Archiving of Legacy Audio Media" (John Marks, Esperanto Audio/The Tannhäuser Gate)
12:00 p.m. – 1:30 p.m: Lunch on your own
1:30 – 2:00 pm – Committee Meetings
2:15 pm – Music Collection gems @ Beinecke (Beinecke Library)
3:00 pm – Tour of Gilmore Music Library (Gilmore Music Library)
3:45 pm – Concert: Anne Rhodes and Kimmy Szeto performing songs from Yale's special collections (Sudler Hall)
4:30 pm – Reception (Mory's, 306 York St. – cash bar)
Early Bird registration will be $18 for regular members and $9 for student and retired members. Please register by Thursday, October 12, 2017 to receive the Early Bird rate. Registrations from October 13 through 20 (including walk-ins) will be $20 and $10, respectively.
Thursday Dinner
All attendees are invited to a pre-conference group dinner on Thursday night, October 19 at 7:00 p.m. at Lalibela Ethiopian Restaurant, 176 Temple St. The restaurant includes vegetarian, vegan and gluten-free menu options. If you would like to attend, please RSVP to Marci Cohen (mcohen2 at bu.edu) by Thursday, October 12.
Hotel
We have reserved a block of rooms at La Quinta Inns & Suites in New Haven. The rate is $85.50-$107.10 depending on the night and the number of beds in the room. The hotel has free parking and is near I-91 and I-95. It is a short cab ride from the Yale campus, the dinner on Thursday, October. 19 and New Haven's Union Station, with Amtrak service as well as regional bus and rail, including MTA service from New York's Grand Central Terminal. The hotel also offers a local shuttle within a 5-mile radius of hotel, including Yale.
To reserve a room, please contact the hotel directly at (203) 562-1111 or their Group Desk at 1-800-642-4239, Option 1 and ask for the special rate for NEMLA.  Reservations must be made no later than 9/27/2017 in order to guarantee this special rate.
The Yale Visitor Center has a full list of lodging in the area with additional options.
Transportation
The Yale Visitor Center has driving directions to campus. The Yale Transportation Options site has information on parking and public transit options, including Amtrak and regional rail and bus service. In addition, Union Station is served by Peter Pan bus.
The Broadway parking lot at Broadway and Elm St. is the closest Yale-operated lot to Sterling Memorial Library. Other options are available. On-street parking is metered.
Yale Information
Here is a campus map of Yale and the website for Sterling Memorial Library. The Visitor Center website has more information about the campus and New Haven.
First-Time Attendees
If this is your first NEMLA meeting, we welcome you to apply for our First-Time Attendees Program. This grant covers registration, lunch, and travel expenses. Both current members and non-members are eligible, so long as they have not attended a meeting before. The deadline to apply for funding through this program is Oct. 6, 2017. Please apply here.  Also note that funding is regrettably not available for all first-time attendees, but we do strive to accommodate as many as we can on a first come, first served basis.
To encourage new involvement in NEMLA, if you bring a first-time attendee to the meeting, you will receive free registration. To take advantage of this offer, email Marci Cohen (mcohen2 at bu.edu) by Oct. 6 with the subject line "NEMLA first-time attendee referral." Include your name and affiliation and the name of the first-time attendee you are hosting. The new attendee must also register for the First-Time Attendee Program, but this does not have to be done simultaneously.
Update on Committees
Laura Stokes, Past-Chair
There are lots of transitions to report for NEMLA's committees!  We'd like to thank Anne Adams for volunteering to become the new chair of the Technical Services committee.  We also welcome Carolyn Johnson and Jenée Force to the Program Committee and Leslie Piper to the Publications Committee, and are delighted by Maria Jane Loizou's return to the Nominating Committee. We appreciate the time and energy all of you devote to our organization!
Several committees are still looking for new members.  This is a great way to work on developments in music librarianship, meet people in this field, and be active on the regional level.  Specific groups seeking new members include the Program, Instruction, and Publication Committees.  We are also looking for people who would like to help with our web management.  If you are interested, please get in touch with the committee chairs or any member of the board.
http://nemla.musiclibraryassoc.org/organization/committees/
Update from the Oral History Committee
Reminiscing with Jennifer Hunt, Past NEMLA Chair
By Debra H. Mandel
Director, Snell Library Recording Studios, Northeastern University
The following conversation was selected from an abridged transcript from the March 17th NEMLA oral history committee interview conducted by me with Jennifer Hunt. Jennifer is Director of the Boston Conservatory Albert Alphin Library at Berklee.  She served as NEMLA chair in 2013, program chair in 2014 and past chair until 2016.
DM: So how did you become involved in NEMLA?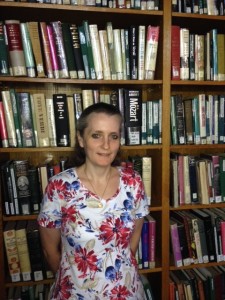 JH: Well, I started working at the Boston Conservatory in October of 2002 and I can't remember exactly who told me about NEMLA, but I very soon thereafter found out about it and knew it would be a good idea to become a member. So I joined, and I didn't do too much with NEMLA for a number of years, but, around 2011, Suzanne Lovejoy, who was the program chair, was looking for a meeting venue, and she called me up and said, "Would you like to a host a NEMLA meeting?" And I thought about it and said, "Well, yes I would, but you know, the Conservatory is pretty short on space, and I had concerns about that, and so I thought well, if there was another place near us where we could sort of have part of the meeting at the Conservatory and another part of the meeting there. So you see back then we were already collaborating, long before the merger. So that's when we went ahead– we had part of the meeting at the Conservatory and we wrapped up in the afternoon over at Berklee.
DM: So how has NEMLA changed over the years?
JH: Well, people have come and gone. But with most things, I would say technology has really helped us along, you know. If you look at our website right now, you can go on there and find videos of our past meetings and see pictures. 20 years ago, did we have that? No. I think a lot of our business procedures probably have been the same, somewhat. I know we did change the bylaws a little bit, but it's still generally the same concept. NEMLA is the regional chapter of the Music Library Association. But I feel like we're getting more innovative and certainly getting better as we age.
DM: Is there anything else you would like to add about your association with NEMLA?
JH: Well, there was one other time I remember quite fondly; there was a meeting, it was held over at the Boston Symphony Orchestra. We had the meeting–had, you know, business meetings and whatnot–and then–we were there, I believe, on a Friday afternoon–and the symphony had a rehearsal. So we got to go sit in, and I just remember sitting there thinking, "This is fabulous, I'm getting paid to hear the symphony."
DM: (laughs) How lucky was that?
JH: Yeah. But yeah, NEMLA is just really a great organization and it's very easy to get started with and get involved with. There are always many opportunities, they're always looking for people to join committees, you know. And just like, I just–all of a sudden, you know, I was just a regular member for a couple of years and the next thing I knew I was the chair. So, it can happen to anybody!
NEMLA Officers
Chair:
Jared Rex
Music Librarian
Fenwick Music Library
College of the Holy Cross
1 College Street
Worcester, MA 01610
jrex at holycross.edu
(508) 793-2295
Vice-Chair/Chair-Elect:
Marci Cohen
Assistant Head
Music Library
Boston University
771 Commonwealth Ave.
Boston, MA 02215
mcohen2 at bu.edu
(617) 353-3707
Past Chair:
Laura Stokes
Performing Arts Librarian
Orwig Music Library
Brown University
Providence, RI 02912
laura_stokes at brown.edu
(401) 863-3999
Secretary-Treasurer:
Alan Karass
Director of Libraries
New England Conservatory
290 Huntington Avenue
Boston, MA 02115-5018
alan.karass at necmusic.edu
(617) 585-1247
Member-At-Large:
Jonathan Manton
Music Librarian for Access Services
Irving S. Gilmore Music Library
Yale University
120 High Street
PO Box 208240
New Haven, CT 06520
jonathan.manton at yale.edu
(203) 432-5549
Newsletter Editor:
Memory Apata
Music Library Supervisor|Education & Outreach
Dartmouth College
Paddock Music Library
Hopkins Center, HB 6245 Hanover, NH 03755
memory.r.apata at dartmouth.edu
(603) 646-3234
NEMLA Archivist:
Sofia Becerra-Licha
Archivist
Stan Getz Library
Berklee College of Music
1140 Boylston Street
Boston, MA 02215
sbecerralicha at berklee.edu
Office: (617)747-8001
Web Page Editor:
Sarah Hunter
Electronic Inventory Manager
Mugar Library
Boston University
771 Commonwealth Ave.
Boston, MA 02215
shunter at bu.edu
Office: (617) 353-5810
Publication Information:
New England Quarter Notes is published quarterly in September, December, March/April and June/July.
Back issues may be accessed from:
http://nemla.musiclibraryassoc.org/resources/newsletters/
Address all correspondence concerning editorial matters to:
Memory Apata
memory.r.apata at dartmouth.edu
Inquiries concerning subscription, membership and change of address should be directed to:
Alan Karass
alan.karass at necmusic.edu
Membership year runs September to August.
Regular Personal Membership:$12.00
Student and Retired Membership:$6.00
Institutional Membership$16.00
Save