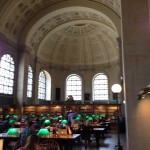 NEMLA plays an active role in facilitating communication among New England's music libraries and the personnel who manage and conserve their collections. Membership is open to anyone interested in supporting our mission or participating in our meetings.
NEMLA membership offers many benefits:

Add value to your professional life
Connect with your colleagues
Enhance your professional knowledge
Gain access to the Collective Wisdom of the chapter listserv to participate in email discussion and receive chapter announcements
Take advantage of professional development opportunities such as proposing presentations for the spring or fall meetings — or presenting yourself!
Support your own work and the work of fellow music library professionals in New England
Become a NEMLA Member!
All dues are now collected through the Music Library Association website. There are two ways to pay dues for your NEMLA membership:
Add a chapter membership to your annual MLA membership.
Purchase a New England chapter membership only.
Please note: You must register when using the system for the first time.
Annual Membership:
The membership year is July 1 to June 30.
Regular membership: $12.00
Student/Retired membership: $6.00
Meetings:
NEMLA holds meetings twice a year, in the Fall and Spring.
See information about our upcoming meeting.
Newsletter:
New England Quarter Notes. Issued Quarterly in September, December, March, and June.
Listserv:
Join our Google Group to receive listserv messages.