Message from the Chair
Dear NEMLA members,
I am pleased to report that we had a very successful fall meeting at The College of the Holy Cross at which 48 of you attended!
A huge thank you to our generous hosts Alicia Hansen, Jared Rex, and Sarah Bilotta for planning and organizing the spaces for the NEMLA meeting. The pasta spread and the reception spread of cheese, dips, cider, beer, and wine were a huge hit! And Jared,
thank you in particular for the spectacular signage and for organizing the intimate concert in St. Joseph Memorial Chapel. The cellist Jan Müller-Szeraws was mesmerizing, and the De Falla duo with the student Anastasia Dulskiy was a sparkling and enjoyable end to the formal meeting program. If you missed any of the programs or want to review the last meeting, please look at our past meeting page to find links to program, videos, and photos. I would also like to say a big thanks to Laura Stokes (Vice Chair) and the Planning Committee: Anne Adams and Ilana Revkin for their tireless efforts planning this last meeting. I invite you to read Ilana's wonderful recap of the fall meeting in this newsletter.
Besides being entertaining and interesting, it was also a very strategic meeting because our committees were able to meet and plan for the coming year. Our newest committee on Oral History was able to meet and Marci Cohen stepped forward to chair this committee. Over the next year Marci and other members from this committee will draft a formal charge and will propose how to spend the grant money which we received from MLA.
Are you thinking of presenting at the next meeting? You will have more time to prepare since this year our spring meeting will be held on Friday, June 3rd at the Lamont Library at Harvard University in Cambridge, MA. Why so much later in the year? We listened to
the member survey in which many of you said that a March meeting can be hard to attend due to inclement weather and MLA being only a few weeks earlier. We wish to thank our host, Kerry Masteller (Past Chair). Laura is providing a meeting preview in this issue and more details will be forthcoming.
I invite all NEMLA members to be more involved in the NEMLA organization and to consider running for one of the elected officers positions. Kerry as head of the Nominating Committee will give a detailed description in her article of the open positions for which we
are still seeking candidates. Thanks to Jared Rex for volunteering to serve on our program committee.
I hope to see many of you at the upcoming MLA meeting in Cincinnati and that you will join us for our NEMLA dinner (I will make an announcement about where and when in NEMLA-L closer to the meeting).
Best wishes for the holidays and New Year!
Zoe Rath
NEMLA Chair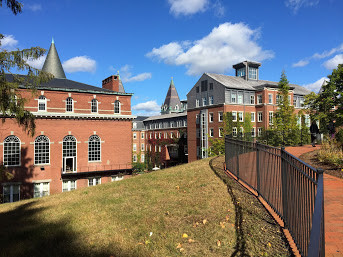 Secretary-Treasurer's Report
Membership
Thanks to all who have renewed their memberships or have recently joined NEMLA. We currently have 51 active members! If the 23 people whose membership was paid through Aug. 31, 2015 renewed their memberships, we would have 74 active members! If you have any questions about the status of your membership, please e-mail me at nemlaboard@gmail.com
Meeting attendance
I heard great feedback about the meeting at the reception. We had 48 attendees. 2 of the 48 were first-time attendees; 2 were guest speakers (i.e., non-NEMLA speakers); 6 were Holy Cross staff. There were 3 others–not counted in the 48–that had pre-registered but were unable to attend.
Finances
Fall meeting income: $ 875.13
Fall meeting expenses: $ 1,180.26
First-time attendee expenses: $ 139.20
Checking account: $ 2006.57
Savings account: $ 4,004.73
Grant funds (Oral history): $ 480.50
Submitted by
Sharon Saunders
NEMLA Secretary-Treasurer
Fall Meeting 2015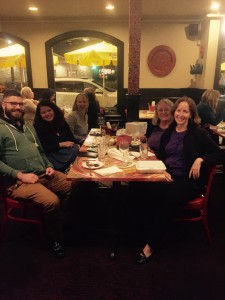 The Fall 2015 NEMLA meeting took place on the bucolic campus of the College of the Holy Cross in Worcester.  Out-of-towners gathered for dinner at the Flying Rhino Cafe on Thursday night.  The meeting began Friday morning at the Rehm Library in Smith Hall.
Our first presenter, hosted by Marci Cohen of the Berklee College of Music, was Glenn McDonald, Data Alchemist at The Echo Nest (now owned by Spotify). His presentation, "New Approaches to Music as Information," gave us a glimpse of his work organizing the vast array of music on Spotify in order to personalize the listener's experience and discovery of music. This involves a visual mapping of 1,387 genres and counting. For more information about McDonald and his work, visit his blog as well as articles on Spotify Insights.
Next, Anna Kijas, Digital Scholarship Librarian at Boston College, shared her work on digitizing and encoding a 14th-century Franciscan Antiphoner, a collaboration between musicologist
Michael Noone and the Boston College University Libraries. In addition to displaying the images and recordings of the antiphoner, the project aims to encode the incipits, texts, and metadata using the Music Encoding Initiative (MEI) into the open source platform, Diva, as well as contribute to the CANTUS Database.  For more information, visit their project summary.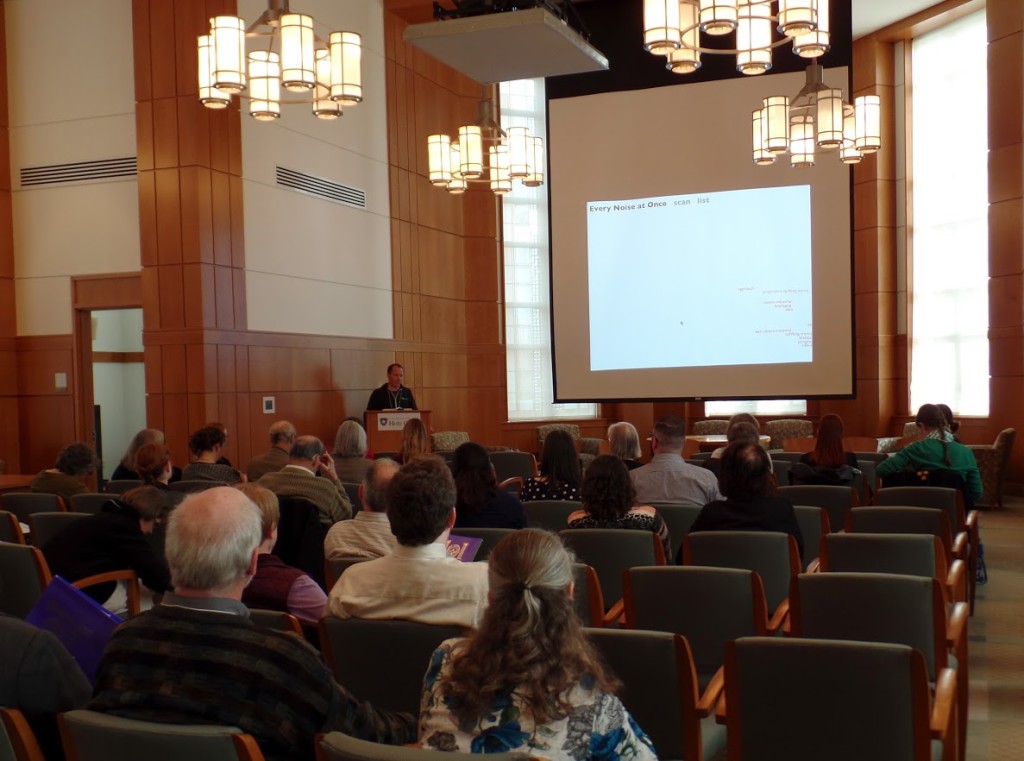 After a delicious catered lunch in the Browsing Room of the Dinand Library, followed by committee meetings and lightning rounds, Anne Adams, Music Cataloger at Harvard University Libraries and Hannah Spence, Catalog Librarian at NEC's Firestone Library presented on behalf of the Technical Services Committee. Their presentation, "LCMPT and LCGFT Or, Look, Ma, no strings!", provided an introduction to the Library of Congress Medium of Performance Thesaurus and the Library of Congress Genre/Form Terms that was aimed toward all librarians, not just catalogers. We learned that in contrast to LC subject headings which conflate all
aspects of a piece of music, medium of performance and genre terms parse them out in a way that is much clearer to musicians and researchers.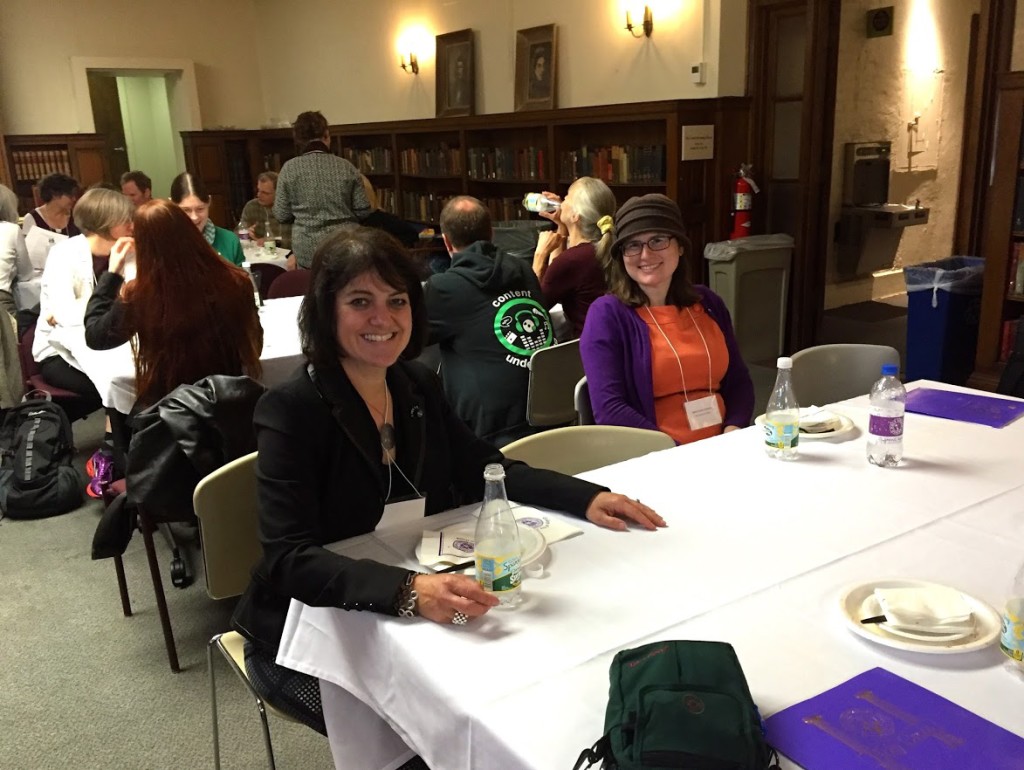 For the final presentation of the day, Lee Eiseman, President of the Harvard Musical Association, provided an overview of the HMA's history and some examples of ephemera, scores, and recordings. Not actually under the purview of Harvard University, the HMA was
founded by Harvard alumni in 1837 to promote musical life in the Boston area through performances, publications, and the collection of music materials.
To round out the meeting, attendees were treated to a performance in the beautiful Brooks Concert Hall. Artist-in-Residence and coordinator of Holy Cross's chamber music program, Jan
Müller-Szeraws, gave a stunning rendition of Osvaldo Golijov's cello solo, Omaramor. He then treated us to Manuel De Falla's Siete canciones populares españoles arranged for cello, accompanied by the talented freshman Anastasia Dulskiy. The performance was followed by a reception with appetizers and wine, held next to Holy Cross's Fenwick Music Library, allowing attendees to explore the library for themselves.
Ilana Revkin
Program Committee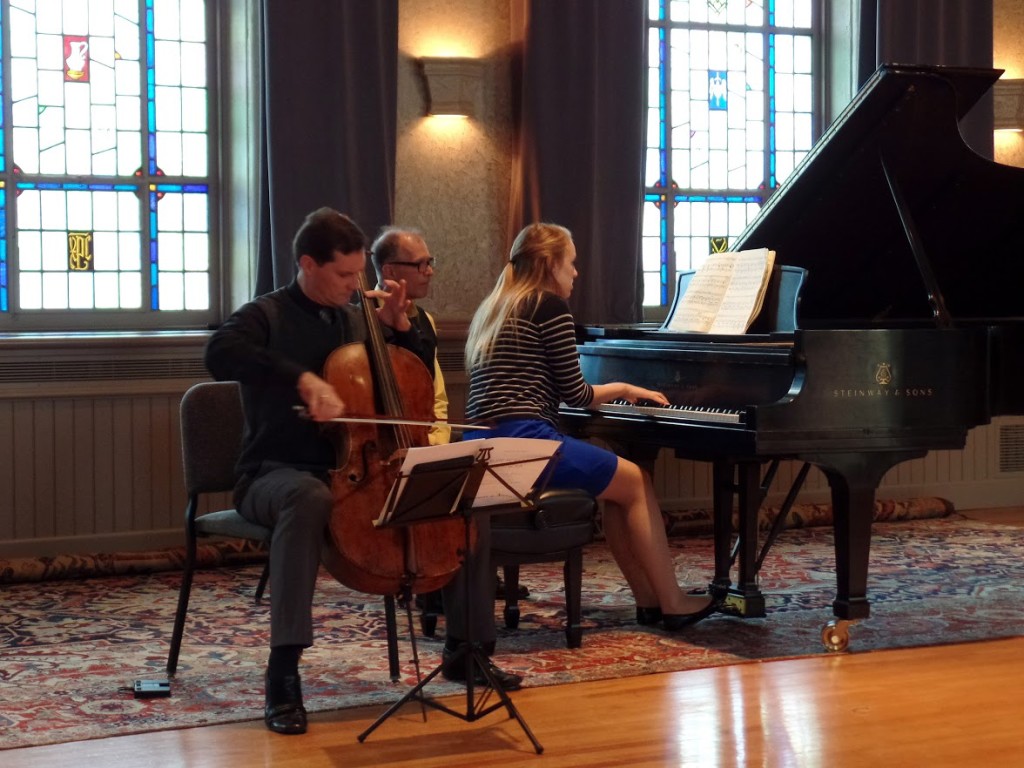 Spring Meeting Preview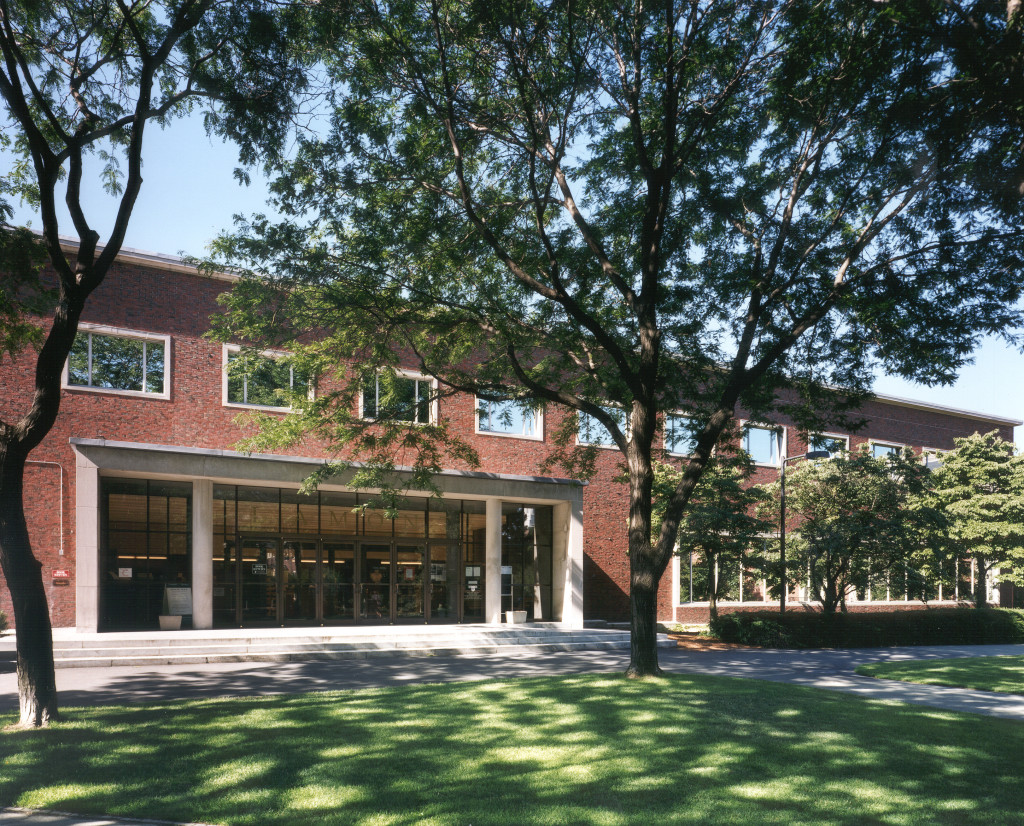 Save the date! The spring meeting of the New England Music Library Association will take place on June 3, 2016, at Harvard University in Cambridge, Massachusetts. We will be meeting in the Forum Room of the Lamont Library, with a planned reception in the Loeb Music Library after the meeting.
Harvard University is the oldest institution of higher education in the United States, dating back to 1636. Lamont Library, which was the first library in the U.S. specifically designed for undergraduates, opened in 1949. It currently houses the undergraduate collections in the humanities and the social sciences. If you'd like a sneak peak, Lamont offers a virtual tour of their facility here.
The Eda Kuhn Loeb Music Library, located in the Music Building, includes the Isham Memorial Library and the Archive of World Music. It opened in 1956, uniting the music collections from Widener with the music department's own collections.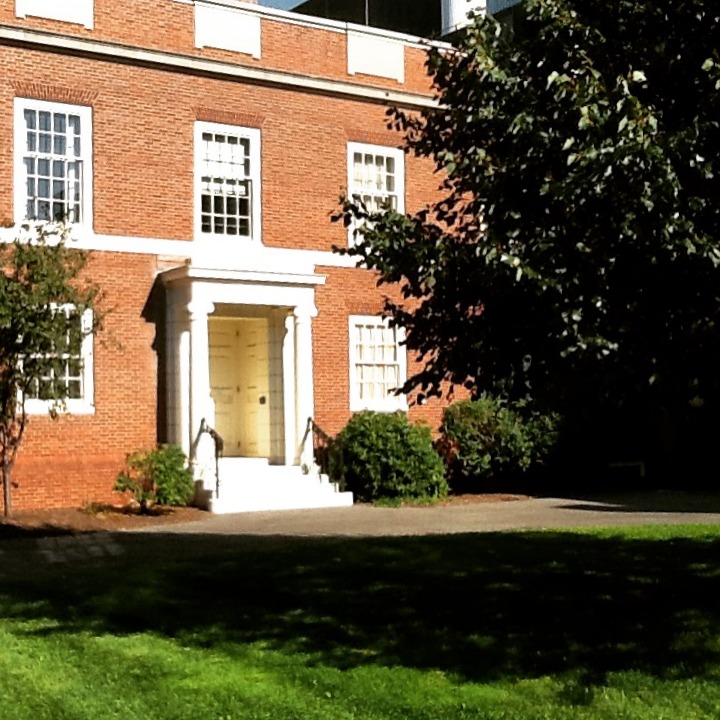 We're looking forward to an exciting, informative, and convivial day at Harvard and in Harvard Square. We would like to extend a special thank-you to Kerry Masteller and Sarah Adams for inviting us to
Harvard, and to Marty Schreiner and Lynn Sayers at Lamont for their assistance with space arrangements. NEMLA's program committee includes Laura Stokes (chair), Anne Adams, Ilana Revkin,
and Jared Rex.
Call for Nominations
Serving as a NEMLA officer is a rewarding opportunity to serve your chapter, work with colleagues, and contribute to music librarianship, libraries and collections in New England. Nominations are being sought for the following positions, with elections to be held in May:
Vice Chair/Chair Elect (3-year term)
Member at Large (2-year term)
Vice-Chair/Chair-Elect:
Performs the duties of the Chair in the latter's absence.
Serves as Chair of the Program Committee.
Serves as an ex-officio member of the Education & Outreach Committee.
The term of office shall be one year, after which the Vice-Chair shall succeed to the office of Chair and then Past-Chair, requiring a commitment of three years.
Member-at-Large
Acts as liaison to relevant professional organizations in New England (such as the New England Library Association (NELA),the six state library associations, the New England chapter of ACRL (ACRL/NEC), and the New England chapter of the American Musicological Society), primarily to promote information
exchange and outreach.
Serves as Chair of the Education & Outreach Committee.
The term of office shall be two years.
Terms of office begin immediately after the spring meeting. Officers must be in good standing and current with their dues. The Vice-Chair/Chair-Elect must also be a member of the national association.
Nominations are welcome through March 18, 2016.
If you would like to nominate a colleague for one of these positions (self-nominations are welcome) or if you have any questions, please contact any of the Nominating Committee members:
Kerry Masteller, Chair, kmastell@fas.harvard.edu
Patricia Fisken, Patricia.B.Fisken@dartmouth.edu
Alan Karass, alan.karass@necmusic.edu
Maria Jane Loizou, mariajane.loizou@necmusic.edu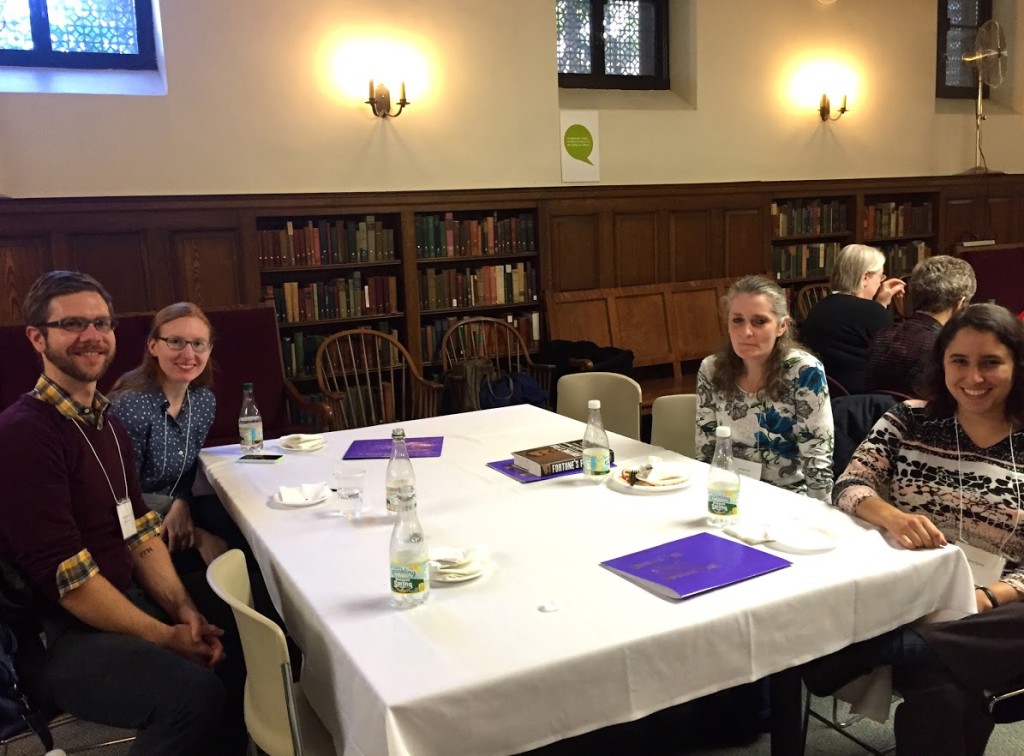 NEMLA Officers
Chair:
Zoe Rath
Reference Librarian ILL Service
Stan Getz Library
Berklee College of Music
1140 Boylston Street
Boston, MA 02215
zrath at berklee dot edu
Phone: 617-747-8143
Vice-Chair/Chair-Elect:
Laura Stokes
Performing Arts Librarian
Orwig Music Library
Brown University
Providence, RI 02912
laura_stokes at brown.edu
Office: (401) 863-3999
Past Chair:
Kerry Carwile Masteller
Reference and Digital Program Librarian
Loeb Music Library
Music Building, North Yard
Harvard University
Cambridge, MA 02138
kmastell at fas.harvard.edu
Office: (617) 495-2794
Fax: (617) 496-4636
Secretary-Treasurer:
Sharon Saunders
Bates College Library
48 Campus Ave
Lewiston, ME 04240
ssaunder at bates.edu
207-786-8327
Member-At-Large:
Christopher Schiff
Ladd Library
Research Services
Bates College
2 Andrews Road
Lewiston, ME 04240
cschiff at bates.edu
Office: (207) 786-6274
Newsletter Editor:
Maryalice Perrin-Mohr
Archivist/Records Manager
New England Conservatory
Spaulding Library
290 Huntington Ave.
Boston, MA 02115
m.perrin-mohr at necmusic.edu
(617) 585-1252
NEMLA Archivist:
Sofia Becerra-Licha
Archivist
Stan Getz Library
Berklee College of Music
1140 Boylston Street
Boston, MA 02215
sbecerralicha at berklee.edu
Office: (617)747-8001
Web Page Editor:
Sarah Hunter
Electronic Inventory Manager
Metadata Services Department
Boston University
771 Commonwealth Ave.
Boston, MA 02215
shunter at bu.edu
Office: (617)353-5810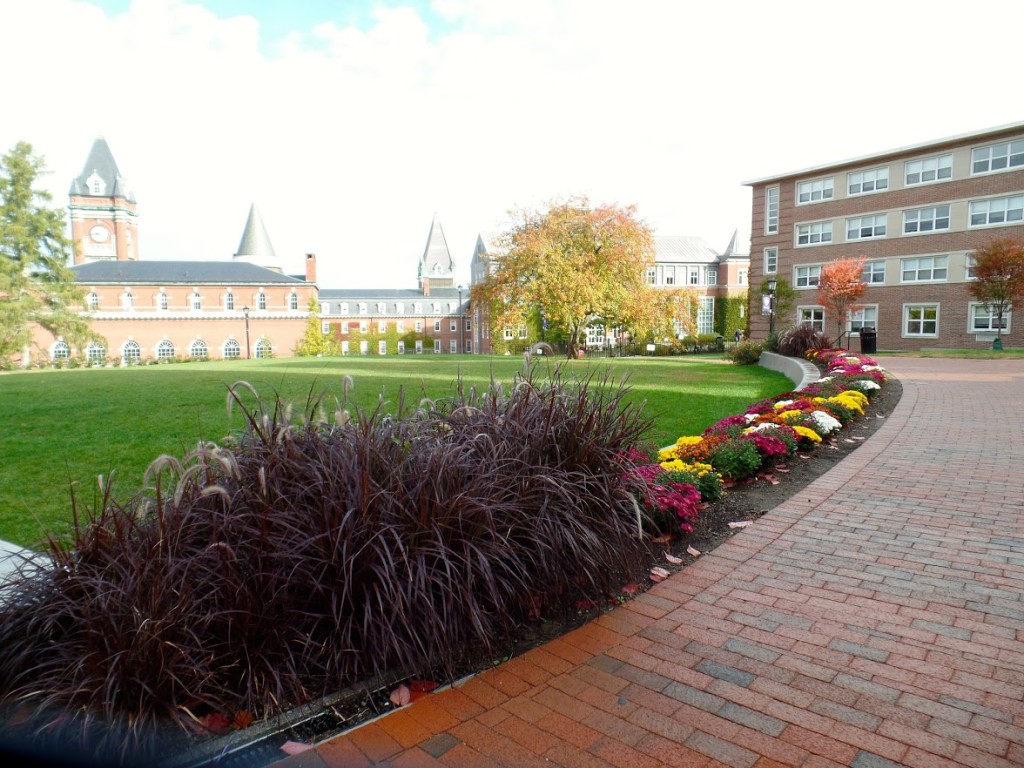 Publication Information
New England Quarter Notes is published quarterly in September, December, March/April and June/July.
Back issues may be accessed from:
http://nemla.musiclibraryassoc.org/resources/newsletters/
Address all correspondence concerning editorial matters to:
Maryalice Perrin-Mohr
m.perrin-mohr at necmusic.edu
Inquiries concerning subscription, membership and change of address should be directed to:
Sharon Saunders
ssaunder at bates.edu
Membership year runs September to August.
Regular Personal Membership:$12.00
Student and Retired Membership:$6.00
Institutional Membership:$16.00
Return to the New England Music Library Association home page.