Message from the Chair
I am still tingling looking back at the success of our joint meeting with NYSO and SQACBM in Montreal in November. As Alan Karass mentioned, the idea had first been floated decades ago, so it was great to see it come to fruition. I appreciate the efforts of every NEMLA member who helped make it a success, including those who just hauled themselves to Montreal to mingle with and learn from our colleagues from outside New England.
Chapter activities are quiet at the moment, but we have a lot going on in the coming months. I'm happy to announce that my own institution, Boston University, will be hosting the spring meeting on Friday, May 31. We wanted a central location after the acknowledged inconvenience and expense of Montreal.
Would you like to help your fellow chapter members with their conference proposals? At the chapter board meeting last summer, we decided to launch a proposal feedback service. The idea is to make the conference proposal process less intimidating and more successful for less-experienced chapter members. Before submitting a proposal for either NEMLA or MLA, a member could solicit feedback from other chapter members who are not part of the program committee. Please contact me (mcohen2@bu.edu) if you are interested in providing feedback, especially if you ever served on a program committee or have frequently submitted successful proposals and can offer opinions on what makes a proposal stand out. We'll have more details on the service in our next issue in time for both the NEMLA and MLA meeting proposal deadlines.
Another initiative in the works is migrating our dues collection from the chapter level to integrating it with MLA's. Again, more details will appear in the next issue, but I thought members would appreciate understanding the process and rationale well in advance. The biggest challenge is that this will require members to approve a by-laws change to align our fiscal year with MLA's. We'll have a proposed by-law change in the next issue so that we can vote on it at the spring meeting. More importantly, there are numerous benefits to doing making this switch.
Cleaner data, which our catalogers in particular will appreciate. We'll have a single set of membership records with self-service updating of contact information.
Saving wear-and-tear on our secretary-treasurers by automating a lot of tedious work of soliciting and tracking new memberships and renewals. Alan Karass has been a treasure of a secretary-treasurer (I highly recommend working with him whenever you can!) but there are better uses for the time of whoever holds this position.
Possible improvement of our renewal percentages because members will have fewer tasks to remember. We know that some chapter memberships lapse merely due to forgetfulness.
Cost savings from not having to pay PayPal service fees. MLA has been covering the transaction costs and passing along the full dues payments to chapters.
To clarify a few questions people may have, we will still handle registration for our chapter meetings, and we will not migrate our chapter website to the platform that MLA uses. Several other chapters have already made the switch and are happy with the results. Please let me know if you have any concerns, and I look forward to the by-law proposal change.
Respectfully submitted,
Marci Cohen, Chair, New England Music Library Association
Assistant Head, Music Library, Boston University
Chapter Dinner at St. Louis Meeting
Are you attending the MLA annual meeting in St. Louis? In lieu of a chapter meeting, we'll have a chapter dinner on Thursday, Feb. 21 at Rosalita's Cantina, 1235 Washington Ave. The Tex-Mex restaurant has vegetarian, vegan and gluten-free options and can accommodate our need for separate checks. It is about a 15-minute walk from the host hotel. Either meet us in the Union Station Hotel lobby at 6:50 to walk there with the group or meet us at the restaurant for a 7:15 reservation. RSVP by Thursday, Feb. 14 to Marci Cohen, mcohen2@bu.edu.
Secretary Treasurer's Report
Submitted by Alan Karass, NEMLA Secretary-Treasurer
There were 29 registered attendees for the fall meeting, including two students.
Fall Meeting Income
27 regular registrations: $1,620.00
2 student registrations: $40.00
MLA grant: $750
Total: $2,410.00
Fall Meeting Expenses
PayPal fees: $57.14
SQACBM deposit: $350.00
Grants awarded: $400.00
Badges & holders: $52.89.00
SQACBM balance due: $1,660..00
Total: $2,520.03 (net loss $110.03)
Fall 2018 Meeting Minutes
NYSO/NEMLA/SQACBM Joint Meeting in Montreal
Adapted from a report originally published in the 200th MLA Newsletter by Marci Cohen, Boston University, NEMLA Chapter Chair
On November 8 and 9, the New York State-Ontario (NYSO) and New England (NEMLA) chapters of the Music Library Association and the Quebec Chapter (SQACBM) of the Canadian Association of Music Libraries, Archives and Documentation Centres (CAML) held a joint meeting in Montreal at McGill University's New Residence Hall. The event attracted approximately 100 attendees from across the U.S. and Canada, including members of the MLA board who held their own meeting in conjunction with the event.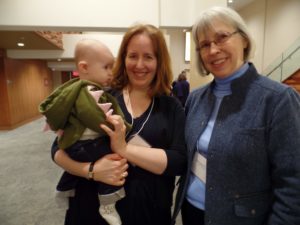 The program committee attracted so many worthwhile proposals that organizers expanded the event to fill both days, with 17 presentations, two posters, and concluding with a tour of the Canadian Music Centre. SQACBM and NYSO also held chapter meetings. Designed as a bilingual event, most presentations were in English. Those who spoke French accompanied their talks with slides in English.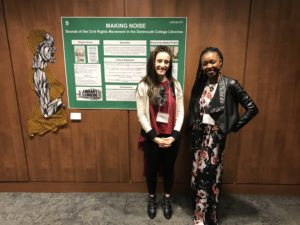 The presentations covered a wide range of topics and issues relevant to music libraries. For example, Julie E. Cumming, McGill University, and Jada Watson, University of Ottawa, spoke about digital scholarship projects involving finding trends across large bodies of musical works, while Suzanne Eggleston Lovejoy, Yale University, conducted traditional research on a single song, "The Long, Long Trail," tying together her own institution, McGill, University of Toronto, and the timely 100th anniversary of the WWI armistice. Lisa Philpott, University of Western Ontario, addressed the challenges of self-published PDF scores, while Andrea Cawelti, Harvard University, advocated for the myriad wonders of sheet music. Proving that everything old is new again, Joseph Darby, Keene State College, discussed subscription-based music publishing in 18th-century Britain, a process with obvious parallels to today's crowdfunding. Jonathan Manton, Yale University, and Lenora Schneller, Cornell University, described methods for better meeting user needs, the former with methods for developing an online A/V access system and the latter with library renovations based on open-ended survey responses. Ronald Broude of music reprint publisher Broude Brothers Limited gave a first-hand account of the history of music reprinting, including a juicy tidbit about sabotaging a competitor's ethically questionable actions.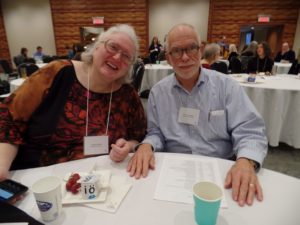 A particular highlight was "Current Issues and Future Directions in Music Librarianship," notable for its esteemed panel: MLA President Mark C. McKnight, MLA Vice President/President-Elect Susannah Cleveland, IAML Vice President Joseph Hafner, and CAML President Carolyn Doi. CAML President-Elect Houman Behzadi facilitated the discussion. The panelists addressed a variety of challenges and opportunities facing the profession, including the shift away from subject specialists, diversity and inclusion issues such as better representing First Nations in Canadian collections, and general leadership advice.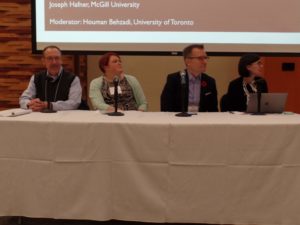 The first day of the event ended with a reception at McGill University's Marvin Duchow Music Library marking the opening of a new exhibit, Women, Work, and Song in Nineteenth-Century France. In a city renowned for its food, the delicious spread was no surprise. What was remarkable was the presentation, no mere list of thank yous for the exhibit. Curator Kimberly White provided both an overview of the themes covered by different parts of the exhibit and an introduction for each representative song performed by vocalist Catherine Harrison-Boisvert. Harrison-Boisvert's evocative delivery coupled with White's English-language descriptions made the performance entertaining and informative for both Francophones and Anglophones.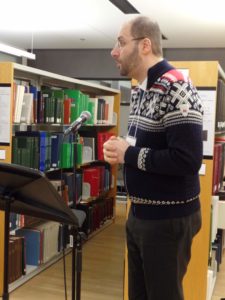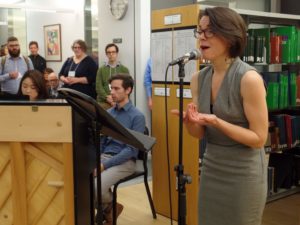 A working group with representatives from each chapter planned the event: Houman Behzadi, NYSO & SQACBM; Cathy Martin, SQACBM; Lenora Schneller, NYSO; Jared Rex, NEMLA; Marci Cohen, NEMLA. The program committee consisted of the program chairs from each chapter: Sarah Funke Donovan, NEMLA; Jim Farrington, NYSO; Christiane Melançon, SQACBM. Board members and other representatives from the three chapters assisted with other arrangements including catering and registration.
Spring Meeting Preview
NEMLA's Spring Meeting will be held on May 31, 2019, at Boston University (BU). The Music Department at BU was founded in 1872 and is home to more than 500 undergraduate and graduate music students, including in-person and online degree programs. In addition, the Music Department boasts a faculty including twenty five members of the Boston Symphony orchestra. The music library at BU serves the academic mission of the department by providing access to a collection with a wide scope, including performing arts, jazz, and spoken-word materials.
Additional details will be provided via the NEMLA list-serv in the upcoming months. Please email Sarah Funke Donovan with questions regarding the Spring Meeting (sdonovan@bso.org).
The program committee will be issuing a call for proposals shortly  from all members of the NEMLA community. We encourage those new to the process to submit work regardless of experience in order to benefit from the feedback of seasoned professionals in the field.
Seeking Nominations
NEMLA members should expect an email from the Nominating Committee detailing vacancies in the upcoming year on the NEMLA board, as well as on various committees. We invite you to consider serving our organization in 2019! Questions regarding nominations should be directed to Jared Rex (jrex@holycross.edu).
NEMLA Officers
Chair:

Marci Cohen
Assistant Head
Music Library
Boston University
771 Commonwealth Ave.
Boston, MA 02215
mcohen2 at bu.edu
(617) 353-3707
Vice-Chair/Chair-Elect: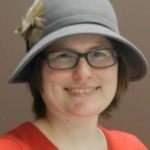 Sarah Funke Donovan
Associate Archivist for Digital Assets
Boston Symphony Orchestra
301 Massachusetts Avenue
Boston, MA 02115
sdonovan at bso.org
(617) 638-9452
Past Chair: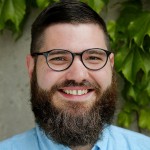 Jared Rex
Music Librarian
Fenwick Music Library
College of the Holy Cross
1 College Street
Worcester, MA 01610
jrex at holycross.edu
(508) 793-2295
Secretary-Treasurer: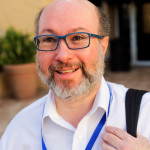 Alan Karass
Director of Libraries
New England Conservatory
290 Huntington Avenue
Boston, MA 02115-5018
alan.karass at necmusic.edu
(617) 585-1247
Member-At-Large:
Patricia (Tish) Brennan
Associate Professor/Head of Reference
James P. Adams Library
Rhode Island College
600 Mt Pleasant Ave
Providence, RI 02908
pbrennan at ric.edu
(401) 456-2810
Newsletter Editor: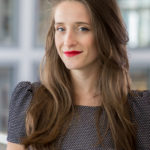 Memory Apata
Music & Performing Arts Librarian
Dartmouth College
Paddock Music Library
Hopkins Center, HB 6245 Hanover, NH 03755
memory.r.apata at dartmouth.edu
(603) 646-3234
NEMLA Archivist:
Sofia Becerra-Licha
Archivist
Stan Getz Library
Berklee College of Music
1140 Boylston Street
Boston, MA 02215
sbecerralicha at berklee.edu
Office: (617)747-8001
Website Editor:
Lisa Wollenberg
Public Services Librarian
Allen Library
University of Hartford
200 Bloomfield Ave
West Hartford, CT 06117
lwollenbe at hartford.edu
Office: (860) 768-4840
Publication Information:
New England Quarter Notes is published quarterly in September, December, March/April and June/July.
Back issues may be accessed from:
http://nemla.musiclibraryassoc.org/resources/newsletters/
Address all correspondence concerning editorial matters to:
Memory Apata
memory.r.apata@dartmouth.edu
Inquiries concerning subscription, membership and change of address should be directed to:
Alan Karass
alan.karass@necmusic.edu
Membership year runs September to August.
Regular Personal Membership:$12.00
Student and Retired Membership:$6.00
Institutional Membership$16.00
Return to the New England Music Library Association home page.