Register
Program
Lunch
Hotel
Transportation
First-Time Attendees
Thursday evening dinner
We are pleased to announce that registration is now open for the fall meeting of the New England Music Library Association!
The fall meeting of the New England Music Library Association will take place on October 16, 2015, at the College of the Holy Cross in Worcester, Massachusetts, in the Rehm Library, Smith Hall, with an afternoon concert and reception in Brooks Concert Hall and the Fenwick Music Library. We have an exciting program planned, including a music encoding project, updates on music vocabularies, the history of the Harvard Musical Association, and a concert featuring some of Holy Cross's own outstanding performers.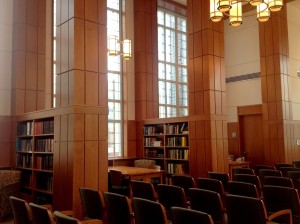 Program
The meeting program will be as follows:
All events take place in Rehm Library, Smith Hall unless otherwise noted.
9–10 a.m. Coffee and pastries [Foyer above Rehm Library] 10–10:15 a.m. Chair's welcome
10:15–11 a.m. Marci Cohen (Berklee College of Music) & Glenn McDonald (Data Alchemist, The Echo Nest), "New Approaches to Music as Information"
11–11:45 a.m. Anna Kijas (Boston College) and Jonathan Mott (Boston University), "The Encoded Medieval Antiphoner: An Open Access Digital Source for Music and Liturgical Pedagogy and Scholarship"
11:45–1:15 p.m. Lunch [Browsing Room in Dinand Library] 1:15–1:45 p.m. Committee meetings [Rehm Library] 1:45–2 p.m.: General meeting reconvenes; committee lightning rounds
2–2:45 p.m.: NEMLA's Technical Services Committee, "Medium of Performance and Genre Terms for Non-Catalogers: Look Ma, No Strings!"
2:45–3:20 p.m.: F. Lee Eiseman (Harvard Musical Association), "Special Collections—The Harvard Musical Association and the development of musical performance and literacy in Boston and America"
3:30–4 p.m.: Concert (Program: TBA) (Brooks Concert Hall)
4–5:30 p.m.: Reception (Foyer adjacent to Fenwick Music Library)
Early Bird Registration will be $16 for regular members and $8 for student and retired members. Please register by October 9, 2015 to receive the Early Bird rate. At-the-door registrations are $18 and $9, respectively.
Lunch
There is a catered lunch (optional) for this meeting, which may be purchased as part of registration. All attendees are advised that dining possibilities within walking distance of Holy Cross are quite limited, and so we strongly recommend either the catered lunch or planning to bring your own. The catered lunch will include vegetarian and non-vegetarian selections. We will be eating in the Browsing Room in the Dinand Library. The cost will be $12; please register for the lunch by October 9, so we can give Holy Cross Catering an accurate headcount.
Hotel
A block of rooms has been reserved at a conference rate of $114/night at the Comfort Inn in Auburn, Massachusetts, which is approximately a five-minute drive from the Holy Cross campus. The deadline for bookings at the NEMLA rate is September 30. To register for the hotel, please call the Comfort Inn at (508) 832-8300 and mention the NEMLA hotel rate.
If you are traveling via public transportation, are staying in the hotel, and need additional assistance with transportation to and from Union Station to the Comfort Inn, please contact Jared Rex (jrex at holycross.edu) or Laura Stokes (laura_stokes at brown.edu) as soon as you have finalized your plans.
If you're looking for a roommate and/or to carpool to Worcester, please use this google doc.
Transportation
By car: Holy Cross is easily reached via I-90 (the Mass Pike) and I-290. From Rhode Island, RI-146/MA-146 will take you directly to Holy Cross. Please see the Directions to Hogan Campus Center webpage for more details.
The Holy Cross campus boasts ample parking, and since we are meeting during Fall Break, we project that the parking lots will not be crowded. Please park in the visitor lot near the Hogan Campus Center.
By train and bus: The MBTA Commuter Rail schedule for the Worcester Line is found here. Regional buses also arrive at Worcester's Union Station at regular intervals. We have arranged a Holy Cross shuttle pickup timed for the MBTA train that arrives at Worcester at 8:27 a.m., and another shuttle that will return to Union Station for the train that departs Worcester at 5:50 p.m. Please contact Laura Stokes or Jared Rex if you have additional needs. ***Please note that if the MBTA changes the commuter rail schedule for fall, the shuttle time will be adjusted to reflect the change.***
If you're looking for a roommate and/or to carpool to Worcester, please use this google doc.
First-Time Attendees
If this is your first NEMLA meeting, we welcome you to apply for our First-Time Attendees Program. This grant covers registration, lunch, and travel expenses; both current members and non-members are eligible, so long as they have not attended a meeting before. The deadline to apply for funding through this program is October 2, 2015. Please apply here: http://tinyurl.com/c8mjvz9
Thursday evening dinner
All attendees are warmly invited to a group dinner at 7 p.m. on Thursday, October 15, at the Flying Rhino Cafe. If you are planning to come, please let Laura Stokes know by Wednesday, October 14 at the latest, so we can give the restaurant a headcount.
A huge thank-you to Jared Rex, Alicia Hansen, and the College of the Holy Cross for hosting this meeting and providing so much in the way of local arrangements.