Boston University
Boston, Massachusetts
Friday, May 31, 2019
Registration
Program
Thursday Night Dinner
Restaurants
Hotel
Transportation
Parking
Boston University/Boston Information
First-Time Attendees
Welcoming First-Time Attendees
Registration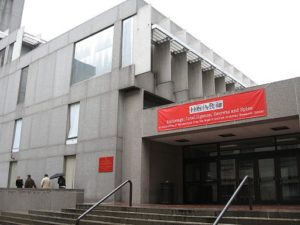 Registration is now open for NEMLA's Spring 2019 Meeting! The meeting will be held at Boston University's Mugar Memorial Library in Boston, Massachusetts on May 31, 2019. We will be meeting in the PAL Lounge, on the third floor.
To register, please click here:
Regular registration: $18 early bird / $20 (after May 24)
Student registration: $9 early bird / $10 (after May 24)
Early Bird Registration Deadline: May 24, 2019
Program
A preliminary schedule is available, but please check back for updates as the schedule becomes finalized.
9:00 am – 9:45 am: Registration; coffee and pastries
9:45 am – 10:00 am: Opening Remarks (speakers TBD)
10:00 am – 10:40 am: Folk music and the environment: preservation of the Hudson River folk festival recordings by Alec McLane, Wesleyan University, and co-presenter TBA
Wesleyan's World Music Archives hold 30 years of recordings deposited by Phil Ciganer, the owner of the Towne Crier Cafe (formerly in Pawling, NY, since relocated to Beacon, NY). For the Recordings at Risk project, funded by the Council on Library and Information Resources, we targeted a subset of these for digitization and preservation: approximately 243 hours of audio recordings on cassette and reel tape from the Great Hudson River Revival festival and the Bear Mountain Festival of World Music and Dance. The first of these festivals was part of Pete Seeger's Clearwater project, raising awareness of environmental pollution in the Hudson River valley, and both festivals were recorded under the supervision of Ciganer between 1978 and 1982, featuring prominent figures in the American folk music and singer-songwriter scene, as well as numerous other performers from around the world.
After a failed application for a pilot grant in 2017 we applied again for the third round in February 2018, and were awarded the grant in April, with NEDCC as our designated vendor. The digitization was completed in late 2018, and while questions of online access to the collection are still to be addressed there is abundant material for a presentation on the grant application process, the digitization, subsequent quality control and ingestion, and of course the music itself.
10:40 am – 11:20 am: Brave, Noisy World: Community Conversation in the Music Library by Memory Apata, Dartmouth College
Music Librarians are uniquely trained in active listening in both music and library contexts. These listening skills enable us to do the work of reparative musicology, which involves the facilitation of social repair through the study and practice of music. The Friday Night Sing-Ins at Dartmouth College's Paddock Music Library were an example of reparative musicology. Following a year of hate-filled campaign rhetoric, heightened racial tension, and mass protests on campus, the library hosted a forum to discuss these issues within the context of music. Participants sang the songs of the civil rights movement and examined the music's history and performance contexts at protests in the U.S. and abroad.
Through the Sing-Ins, the library inadvertently became a "brave space," a term which has emerged in opposition to so-called "safe spaces." Safe spaces are understood to be places (either physical or conceptual) where marginalized students can have a break from the labor of fielding frequent questions about their backgrounds and experiences. A brave space challenges the idea of safe discussions, and is instead a place wherein individuals are encouraged to openly share their opinions and be challenged by those who do not share similar stances. At the Sing-Ins, attendees' opinions on current events were brought out into the open through their discussion and performance of protest songs. Library staff sparked these conversations by selecting provocative repertoire and connecting the discussion to the music.
As the annual event has grown, we have worked to create a balance between safety and braveness in our space. In this presentation I discuss lessons learned, including several mistakes we have made in designing the event and how we have dealt with microaggressions. I show how music librarians can and perhaps should be activists for social justice.
11:20 am – 12:00 pm: Rebalancing the Music Canon & MEI Workflow by Anna Kijas, Boston College and Sarah Melton, Boston College
At Boston College Libraries, we are developing a Rebalancing the Music Canon music data repository focused on works by un(der)-represented people. The aim is to decenter the musical canon and make data-driven music scholarship more diverse and inclusive. We are beginning with a small corpus (about 178 pieces) shared by the Music Theory Examples by Women (MTEW) project. Their work includes the compilation of excerpts and complete musical compositions by women composers, including women of color. A key part of this project has been developing a workflow and process that can be replicated by students, staff, and other collaborators. With her colleague Raffaele Viglianti (UMD/MITH), Anna has developed a tutorial (forthcoming via DLF Library Pedagogy Cookbook that will incorporate this workflow and provide greater detail about how to create MEI XML files with a specific focus on metadata and enhancing the transcribed music notation for people working with metadata, digital libraries, and digital preservation. In the presentation, we will first discuss the Rebalancing the Music Canon project and present the workflow being used with our students and staff who are involved in extracting, correcting, and encoding the music data. This will include a brief demo of the workflow and examples from our work. The second part of this presentation will be a hands-on (paper and pencil) document analysis mark-up exercise that will get participants to consider the elements and attributes that can be encoded from a musical notation document.
12:00 pm – 1:30 pm: Lunch on your own
1:30 pm – 2:00 pm: Business Meeting
2:00 pm – 2:40 pm: Too Many Students and Not Enough Time: Solving Practical Challenges with Augmented Reality Library Tours by Lisa Wollenberg, University of Hartford
How do you give customized library tours to 150 students in an online class? All first-year performing arts majors at the University of Hartford are enrolled in HLM020, an online information literacy course taught by the Allen Library (music & dance) Public Services Librarian. A library tour assignment was desired as part of the course, but was difficult to incorporate for many reasons: there were typically 130-150 students enrolled, the course had no prescribed in-person class times, and arranging in-person tours was difficult given students' already busy and varied schedules. In addition, the tours needed to be customized to point out the most important resources for students' individual fields of study, spanning multiple music majors plus jazz, dance, actor training, musical theatre, music production & technology, and music management.
As a solution, augmented reality tours were created using ARIS, a free open- source platform. Students were able to independently visit the library on their own time and take a tour using the ARIS app on their iPhone or one of the library's loaning iPads. The students followed a virtual tour guide in the ARIS app which led them to various library spaces and important resources for their chosen major. The presenter will share a short demo "tour" for participants to test during the presentation, as well as tips for setting up new tours in the ARIS Editor. She will also discuss some of the challenges and solutions for using ARIS and other augmented reality tools, plus ideas for further applications of this technology.
2:45 pm – 3:25 pm: Tours of Mugar Library
3:30 pm – 4:15 pm: Concert by Sourcework
4:15 pm – 5:30 pm: Reception at Sunset Cantina, 916 Commonwealth Ave., Boston, MA. Cash bar.
Thursday Night Dinner
If you will be in Boston on Thursday evening, we invite you to join us at The Yard House (126 Brookline Avenue, Boston, MA 02215, 617-236-4083) on May 30th, 2019 at 6:30pm. Please RSVP to Sarah Funke Donovan (sdonovan at bso.org) if you plan to attend.
Restaurants
A list of area restaurants is available here.
Hotel
Below is a brief list of hotels close to Boston University:
BU also has a list of additional hotels nearby or accessible via public transit.
Transportation
Attendees are encouraged to take public transportation. Boston University has public transit and driving directions to campus. The closest T stop is BU Central on the Green B line. Several bus routes also service the area; the 47, 57 and CT-2 have the closest stops.
Parking
There are two parking options somewhat close to the BU campus.
Granby Lot (N), 665 Commonwealth Ave.: About a 10-minute walk and costs $17
Agganis Arena lot/garage, 925 Commonwealth Ave.: Slightly farther away and cheaper.
Please click here for a list of other parking options. To arrange for accessible parking, please contact Marci Cohen at mcohen2 at bu.edu.
Boston University/Boston Information
Here is a campus map of BU. The library website is here. The Greater Boston Convention & Visitors Bureau has more information about the city.
First-Time Attendees
If this is your first NEMLA meeting, we welcome you to take advantage of our First-Time Attendees Program! Regardless of whether you are a member or not, the registration fee is waived for first-time attendees. We also welcome you to apply for our First-Time Attendees Travel Grant, for assistance with travel expenses. The deadline to apply for funding through this program is May 24, 2019. To register as a first-time attendee and/or apply for travel assistance, please click here. Also note that funding for travel assistance is regrettably not available for all first-time attendees, but we do strive to accommodate as many as we can on a first-come, first-served basis.
Welcoming First-Time Attendees
Would you like to help a first-time attendee feel more welcome at their first meeting? We are looking for hosts to aid newcomers in getting to know our organization and its members. The time commitment is very low. You will be paired with a first-time attendee to either introduce them to people during the registration/coffee period in the morning or have them accompany you to lunch. (You are not responsible for paying for their lunch.) Please email Sarah Funke Donovan (sdonovan at bso.org) by Monday, May 20th, 2019 to volunteer.